Recently, the 2022 International Integrated Circuit Exhibition and Seminar (hereinafter referred to as the "Exhibition") was held at the Nanjing International Expo Center. The two-day event attracted 2000multiple companies, more than800030,000 viewers attended and attracted more than 30,000 views through live global video broadcast. China Mobile Internet of Things Co., Ltd. participated in the exhibition with related exhibits of China Mobile Internet of Things OneOS operating system, showing the latest capabilities in the three major industries of consumer electronics, smart city and smart industry. At the 2022 China IC Design Achievement Award Ceremony held concurrently, China Mobile IoT's OneOS operating system won the annual Innovative IoT Operating System Service Provider Award.
The "China IC Design Achievement Award" aims to recognize the best companies, groups and outstanding individuals who occupy a leading position in China's IC design chain or demonstrate outstanding design capabilities and technical service levels, or have great potential for development, and also commend them in Contributions to assisting engineers in developing electronic systems products. This award is a testament to the recognition and encouragement of China Mobile IoT OneOS by experts in China's IoT industry. OneOS will continue to strengthen technical research and ecological operation capabilities, and jointly promote the development of China's IoT industry with upstream and downstream industries.
Continuous iterative updates, focusing on high security and wide compatibility features
The development vision of OneOS is to become the leading IoT operating system provider in China. It has been iterated to version 2.3, which has greatly improved in system performance, security, reliability, hardware compatibility, etc. It has passed IEC61508, CCRC EAL4+, etc. Authoritative certification for functional safety and information security. Up to now, the cumulative installed capacity of China Mobile IoT OneOS has exceeded 20 million.
In addition to a high degree of security, OneOS's extensive hardware compatibility also enables customers to freely select and develop chips. At present, OneOS has supported ARM, RISC-V, MIPS, LoongArch, C-SKY, Xtensa and other platforms, and is compatible with mainstream MCUs such as ST, NXP, Huada, Zhaoyi, Fudanwei, etc., and is compatible with over 1200 chips. More than 80 modules, and can run stably on more than 50 development boards.
Deeply cultivate the three major industries to facilitate the development of digital industrialization and industrial digitalization
The rich middleware capabilities of OneOS, such as GUI, OTA, cloud access, etc., enable customers to freely choose according to specific applications, and develop products with lower cost and faster efficiency. At this exhibition, China Mobile IoT OneOS fully demonstrated the current capabilities and achievements of OneOS from the three industries of consumer electronics, smart city and smart industry, attracting many professional developers to the booth to discuss and exchange.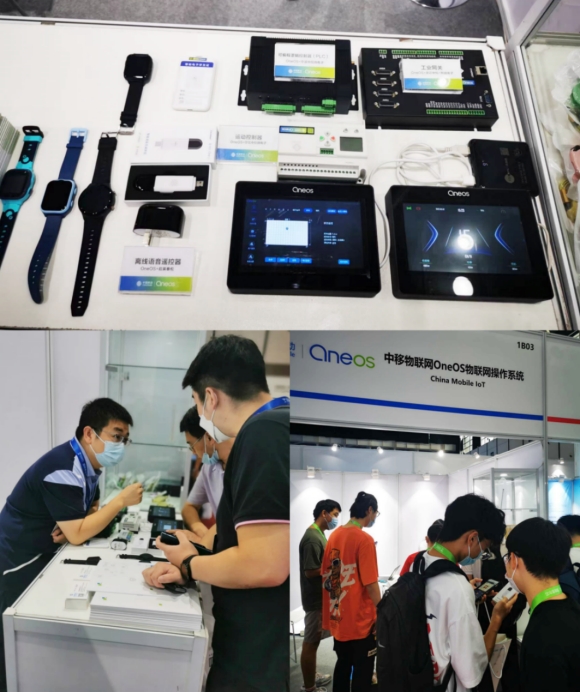 In the consumer electronics industry, for smart wearables and smart homes, aiming at the pain points such as poor interactive experience, few available services, and difficult product upgrades, the "OneOS+CMS capability" model provides end-cloud integration solutions, and supports modular assembly of solutions. With product customization, it has been applied in multiple scenarios such as electronic student cards, Bluetooth watches, and smart home appliances.
In the smart city industry, OneOS is deeply integrated with upstream chip companies and downstream manufacturing companies, and has launched overall solutions for energy meters, smart transportation, smart security and other industries. Large-scale landing applications have been realized on products such as smoke detectors and door sensor monitoring.
In the smart industrial industry, OneOS gives full play to the characteristics of real-time, reliability and security, and provides components and capabilities such as soft PLC development kits supporting IEC61131-3, rich industrial communication protocol stacks, GUI frameworks, indoor and outdoor high-precision positioning, and OTA upgrades. , to create benchmark cases in the fields of energy automation and special measurement. At present, it has in-depth cooperation with Ningbo Supcon Microelectronics, Loongson Zhongke, CODESYS, Suzhou Dafang and other leading enterprises in the industry.
With the help of the OneOS open source ecosystem, China Mobile IoT OneOS operating system focuses on the three major industries of consumer electronics, smart city and smart industry, and creates high-quality solutions by continuously expanding the depth and breadth of cooperation with mainstream chip companies and industry leading companies and combining industry needs. , establish industry influence and product reputation, and help digital industrialization and industrial digital development.
#China #Mobile #IoT #OneOS #operating #system #unveiled #International #ExhibitionNews Fast Delivery

China Mobile IoT OneOS operating system unveiled at 2022 International IC Exhibition-News Fast Delivery