After six months of development, the GNOME Project has released version 44 of GNOME. The latest release includes numerous improvements, new features, enhancements and fixes. Key takeaways include major improvements to the Settings app, a better quick settings menu, and a streamlined software app.
GNOME 44 was codenamed Kuala Lumpur in recognition of the work of the organizers of GNOME.Asia 2022.
grid view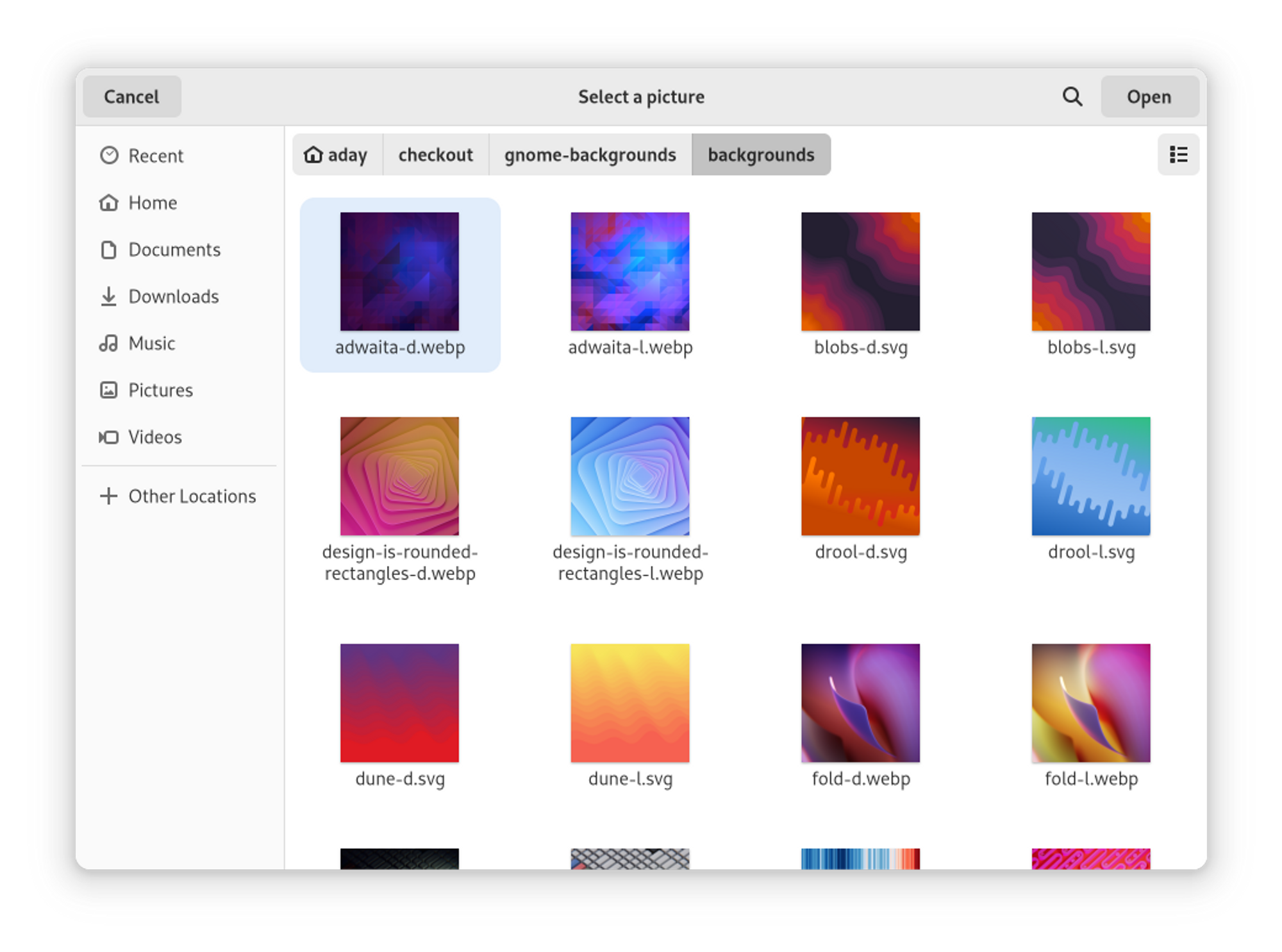 GNOME's file chooser dialog has always only had a list view, and over the years GNOME users have repeatedly asked for a grid view in the file chooser.
In GNOME 44, this request has finally been answered. A new grid view is available in the file picker using GTK4. Some applications may use older GTK3 versions of the file picker, which do not include the new grid view.
settings panel
GNOME 44 is a major release of the GNOME Settings (Settings) application, and four settings panels have been redesigned in the new version.
device security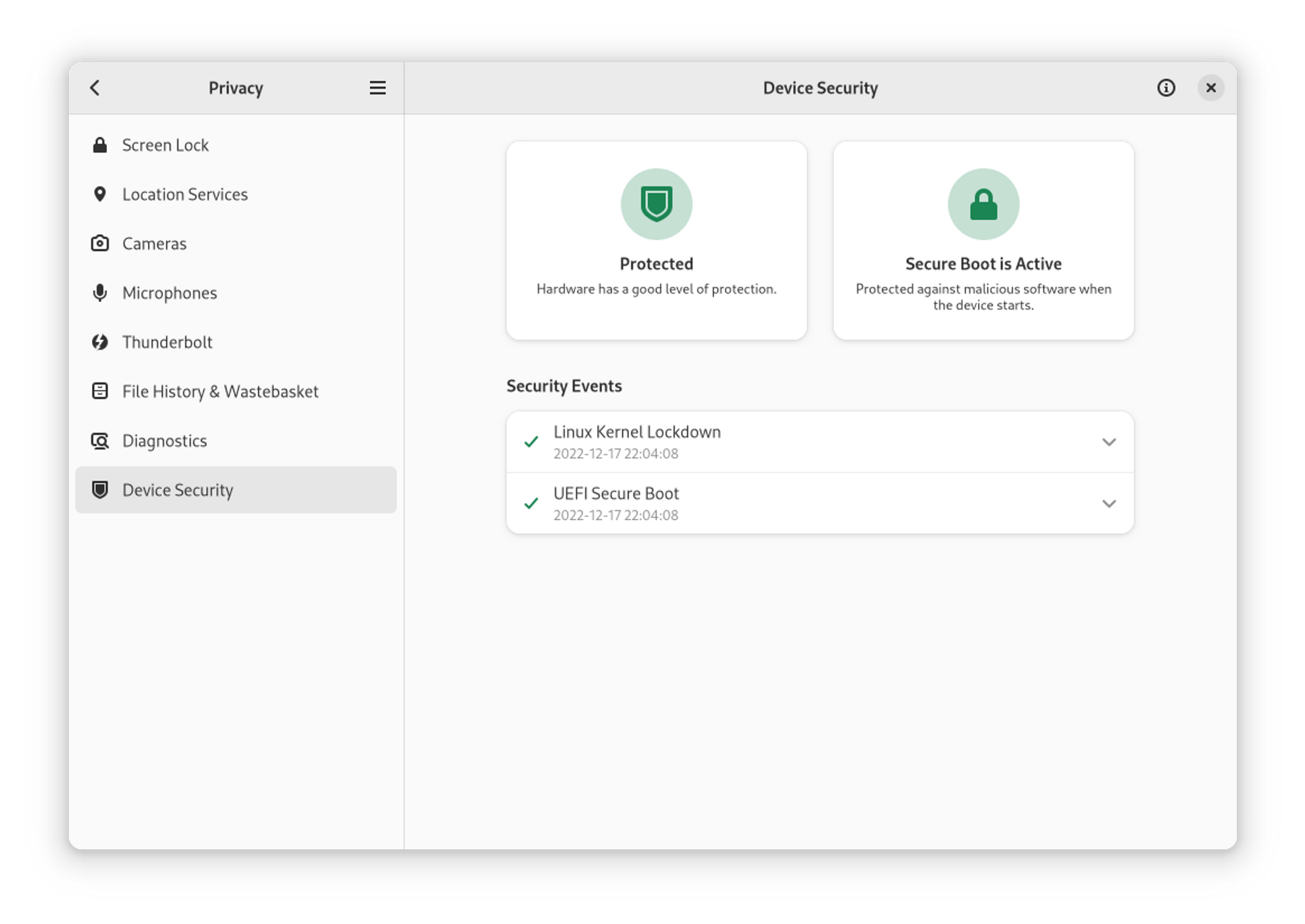 Device Security was introduced in the Settings application in the previous version, GNOME 43. The new version visually depicts the device's security status as "Check Failed", "Check Passed" or "Protected". This makes the panels easier to understand.
barrier free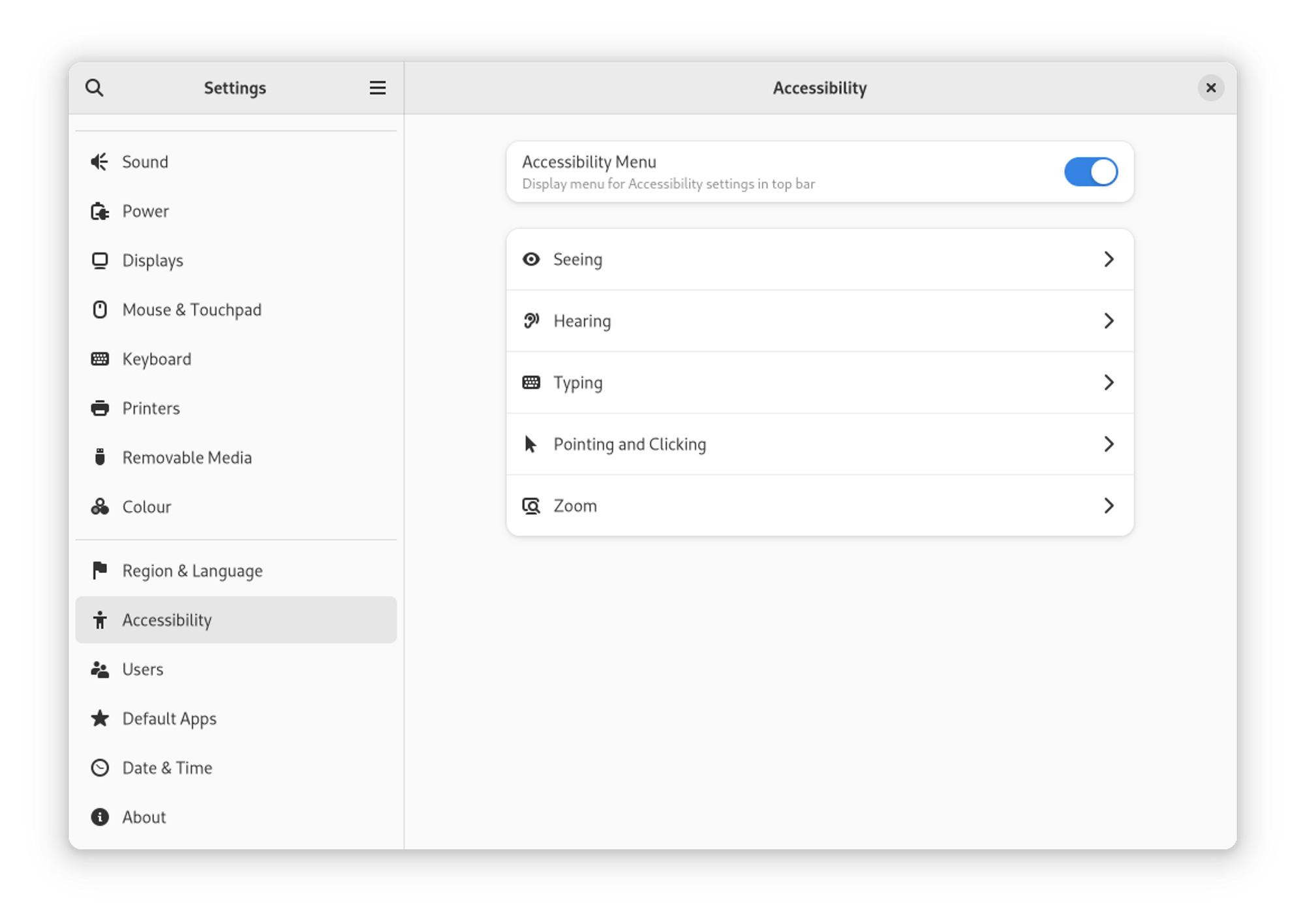 GNOME's accessibility settings have been redesigned in GNOME 44. The different sections of the settings are now separated to make them easier to navigate. The design of individual settings has also been improved, making them clearer and consistent with other settings. Additionally, more detailed descriptions have been added for many settings.
The new accessibility settings also include some new features:
Added a setting for extra amplification, pushing the volume above the usual maximum threshold
Under Typing settings, an option has been added to enable accessibility using the keyboard.
There is now a test area with a blinking cursor set.
A new setting has been added in the Seeing settings section to make scrollbars always visible.
sound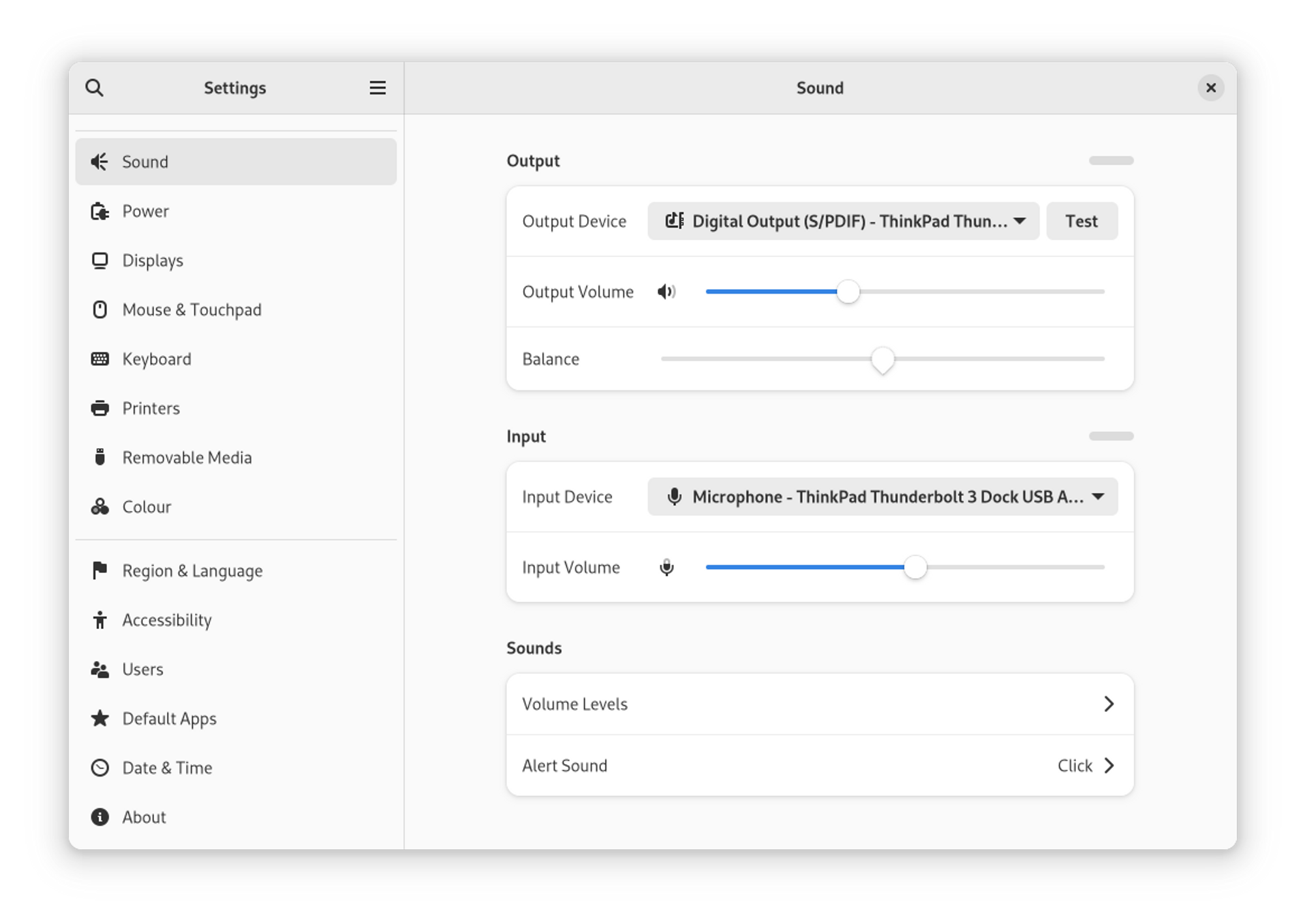 GNOME's sound settings have also been upgraded since the last release, which makes them easier to use:
Volume controls have been moved into a separate window, making the more commonly used output and input controls easier to access.
Alert sounds can now be disabled, and a new Alert Sounds window makes it easy to browse available sounds.
The sound test window has been redesigned, removing previous scaling issues when there were many outputs, and providing a more attractive interface.
Mouse and Trackpad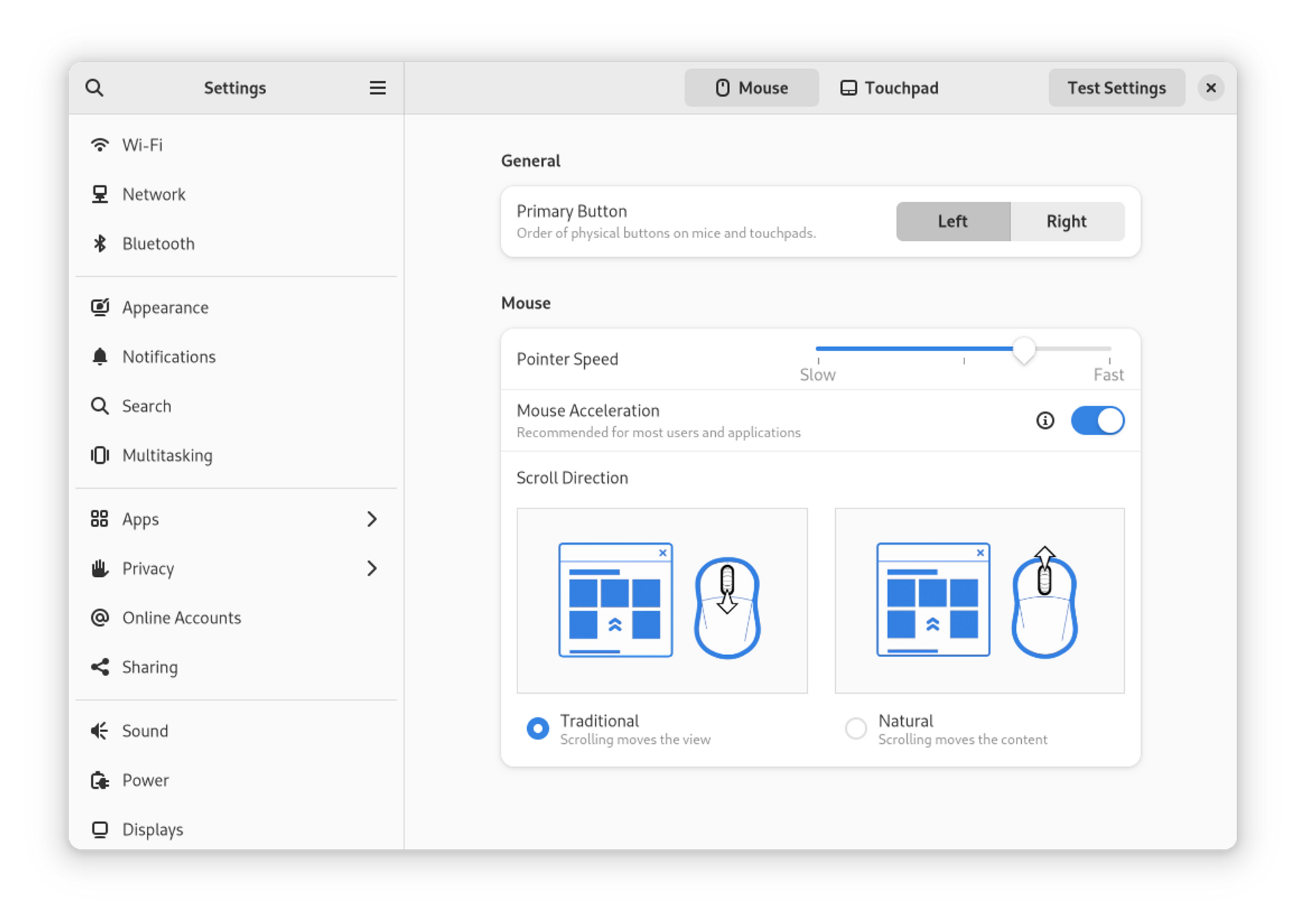 The last settings panel redesigned for GNOME 44 is Mouse and Trackpad. The most obvious change is the addition of videos demonstrating the different options available, making the various settings easier to understand.
Other improvements in the mouse and trackpad settings include a new test window, a new mouse acceleration setting, and different tick marks in sliders.
Quick Setup
The quick settings menu was a new feature in the last version and has been improved in this version:
The Bluetooth quick settings button now has a menu, which shows which devices are connected, and allows connecting and disconnecting devices.

The menu now lists applications that were detected as running without opening windows. This feature makes it possible to check whether a particular app is running in the background. Currently only the Flatpak application is included in the list of background applications.

Added description for each quick settings toggle button.
Streamlined software application
The Software app in GNOME 44 brings a smoother, faster experience. Pages for each software category now display faster, so you can browse with fewer interruptions and fewer page reloads.
The app also has improved support for next-generation software formats: Flatpak runtimes are now automatically removed when not needed to save disk space, and image-based OS updates now have both progress information and descriptions.
Improve Files
Files received a series of improvements in GNOME 44:
Previously, when Files was converted to GTK4, it lost the option to expand folders in list view. In GNOME 44, this option is now back.
Tabs now have more options
The number of grid view sizes has been increased
More settings improvements
In GNOME 44, in addition to the redesigned settings panel, there are a series of smaller settings improvements:
In Wi-Fi settings, you can now use a QR code to share Wi-Fi passwords
The About section now includes kernel and firmware versions.
Thunderbolt settings only appear if you have Thunderbolt hardware
other
GNOME's low battery notification has been reworked with a new icon and updated text
Web, the GNOME browser has been converted to GTK4
Search results from settings can now be disabled
Drag and drop functionality in the application grid has also been improved
Terminal app Console now has a tab overview option that displays open tabs in a grid
New GNOME wallpapers

GNOME 44 will be the default desktop environment for Fedora Linux 38 and Ubuntu 23.04 (Lunar Lobster) operating system releases.
More details can be viewed: https://release.gnome.org/44/
#GNOME #Officially #Released #News Fast Delivery