Google launched the Stadia cloud gaming service in 2019. However, due to the small number of users and the disproportion between input and output, Google's Stadia game studio has been disbanded in early February 2021, but its Stadia cloud game platform is still struggling and trying to transform from self-developed games to third-party games Distribution platform, but it has been abandoned for a long time.
Google will shut down the Stadia cloud gaming platform in January 2023 after it "did not attract users as expected," according to a Google blog.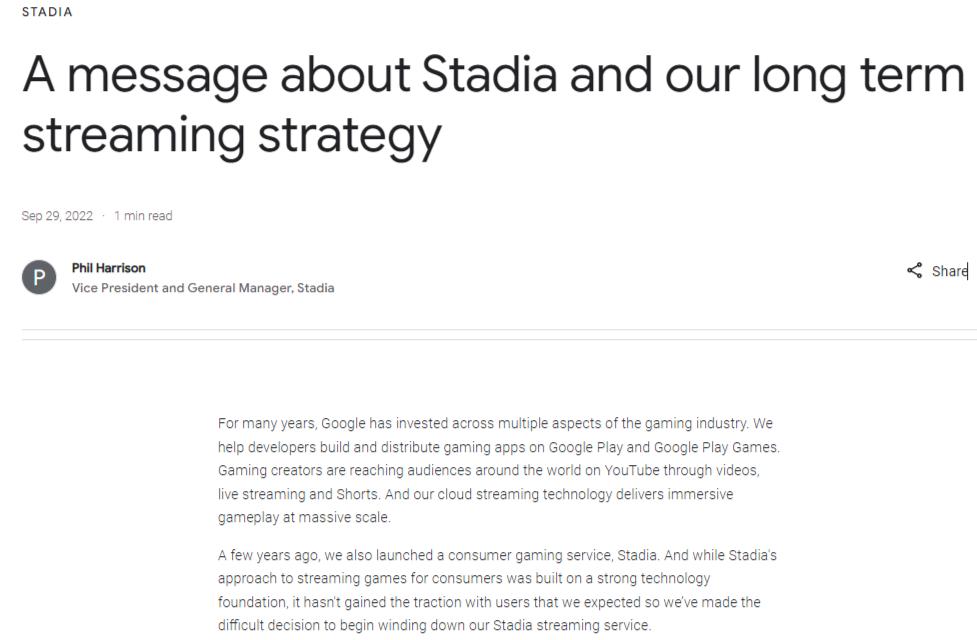 According to Stadia vice president and general manager Phil Harrison, after the platform shuts down, Google will refund Stadia hardware purchased through the Google Store and all games and DLC purchased from the Stadia store.Players can still continue to access the Stadia game library and play until January 18, 2023, GoogleMost refunds are expected to be completed by mid-January 2023.
And more details on the refund process can be found in the Help Center.
although Stadia cloud gaming platform fails in commercialization, butThe underlying streaming technology that powers Stadia is still playing out, and Google is taking this technology to YouTube, Google Play, and other AR work, and making it available to Google's industry partners to keep these foundational Stadia streaming technologies going Impact on gaming and other industries
#Google #shuts #Stadia #cloud #game #streaming #service