Intel engineers have released the latest "2022Q3" and "2022Q41 RC1" FFmpeg patch sets. The latest patches are used to improve FFmpeg video acceleration and Intel graphics, and are stored in Intel's "cartwheel-ffmpeg" warehouse.
The "cartwheel-ffmpeg" repository is a staging area for Intel developers to contribute unmerged Intel hardware patches to FFmpeg. In other words, this is a pilot area where all patches need to be reviewed, properly tested, and eventually merged upstream.
According to foreign media Phoronix introduction, latest The 2022Q3 series of FFmpeg patches has the following optimizations:
Added FFmpeg support for Raptor Lake S platform
ffmpeg-vaapi added av1 encoding support,
ffmpeg-qsv vpp scaling Add model selection via oneVPL supporting EU, VDBOX or VEBOX, user can use "scale_mode" option to select hardware model
Adaptive I/B support for H.265 QSV encoding
ffmpeg dnn: OpenVINO full GPU detection and classification support
ffmpeg dnn: Enable the Torch library as one of the FFmpeg DNN backends
There are also 2022Q41 RC1 series of patches, but there is currently no changelog for this series.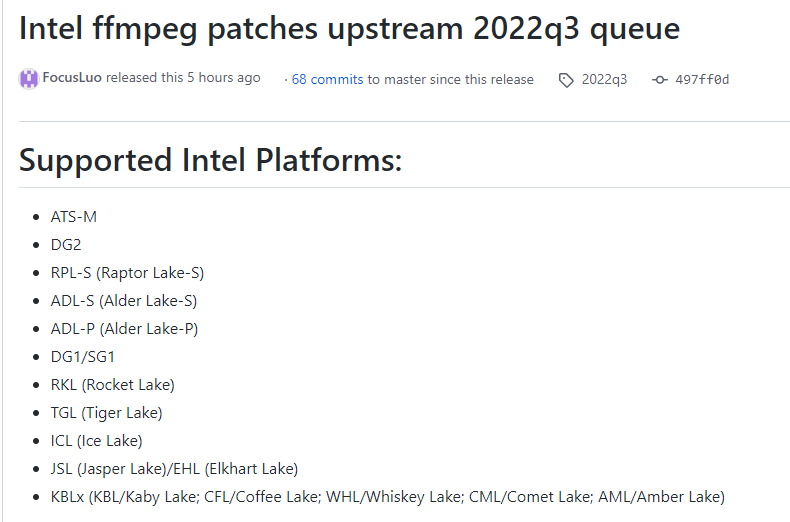 For users using Intel Arc Graphics hardware, Intel's FFmpeg cartwheel provides the latest and greatest graphics driver support. Most of Intel's current engineering focus is on support for the DG2/Alchemist series of graphics cards. But tests on Intel graphics hardware show that the FFmpeg patch optimizes as far back as Tigerlake/Icelake/JasperLake architectures with integrated graphics, and even some Kabylake/Comet Lake coverage.
#Intel #released #latest #FFmpeg #patch #set #optimize #GPU #video #encodingdecoding #News Fast Delivery