In November 2022, after deliberation and approval by the openKylin community technical committee,Storage SIG(Storage Systems Special Interest Group) was formally established.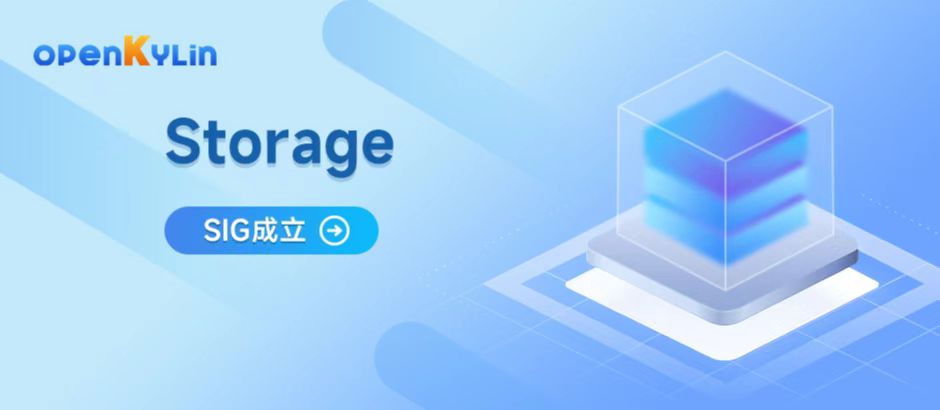 The Storage SIG was initiated and established by Beijing Zongcun Technology Co., Ltd., the co-construction unit of the openKylin community. It is responsible for the development work related to IO storage such as the innovative design of the storage full stack, the driver adaptation and optimization of storage hardware, and the design of near data processing in the openKylin community.
01
SIG target
In order to build a top-level open source community for desktop operating systems and build a more complete openKylin OS ecosystem, we will work with advanced teams in the industry to explore novel research content of storage systems; and promote the development of advanced technologies in domestic storage systems.
02
SIG Responsibilities
1. Create and maintain Storage SIG
Maintain the community LinuxStorage I/O Stack software stack

Provide adaptation and compatibility testing for storage protocols such as SCSI/NVMe/FC and related storage chip hardware
2. Provide software and hardware adaptation and support for storage systems based on openKylin OS
Help the community complete the technical iteration of high-speed storage protocols such as NVMe/SCSI/UFS from kernel mode to user mode

Provide maintenance and support for SCSI/NVMe/FC drivers and related software stacks of mainstream HBA/RAID cards on the market
3. Maintenance and software and hardware adaptation of general storage software stacks such as block devices and file systems
Help the community maintain the adaptation of general storage I/O software stacks such as block devices and file systems to mainstream databases and other system software;

Help the community to provide code maintenance and compatibility testing of the storage I/O stack for the integration of storage software and hardware systems such as hyper-convergence, software-defined storage, and distributed storage
03
Welcome to SIG
Storage SIG is responsible for the development and information exchange related to storage systems in the openKylin community. This group has a top storage research and technical team in China, which provides strong support at the storage system level for expanding the ecosystem of openKylin. We look forward to the participation of all interested friends!
mailing list:

storage@lists.openkylin.top

SIG homepage

https://gitee.com/openkylin/community/tree/master/sig/Storage
The openKylin (Open Kylin) community aims at "co-creation" as the core, on the basis of open source, voluntary, equal and collaborative, through open source and open means to build a partner ecosystem with enterprises, and jointly build a top-level desktop operating system community, Promote the prosperity and development of Linux open source technology and its software and hardware ecosystem.
The first member units of the community include Kylin Software, Puhua Basic Software, Zhongke Fangde, Kylin Xinan, Meditation Software, Yiming Software, Zhongxing Xinfu, Yuanxin Technology, China Electric Power 32, Jide System, Beijing Lin Zhuo, Advanced Operating System Innovation Center and other 13 industry colleagues and industry institutions.
Source: Storage SIG
Review: openKylin
#Beijing #Zongcun #established #Storage #SIG #jointly #build #openKylin #community #storage #system #provide #leading #storage #interconnection #solutions #News Fast Delivery