The core GNU toolchain projects (GCC, GLIBC, GDB, and Binutils) have long been hosted on Red Hat-sponsored Sourceware.org. And during the GNU Cauldron's Sourceware/Infrastructure BoF conference, the GNU toolchain community, together with the Linux Foundation and OpenSSF (Open Source Software Security Foundation), announced the GNU Toolchain Infrastructure Project (GTI).
The cooperation is divided into two parts,infrastructureandSoftware Supply Chain Security Fundthe infrastructure is to move the GNU toolchain project from the now hosted Sourceware to Linux Foundation IT Services (LF IT for short).red hat Carlos O'Donell introduced in the email: The LF IT service plan for the GNU toolchain includes Git repositories, mailing lists, issue tracking, website and CI/CDadditionally powerfulAuthentication, Attestation and Security Facilities.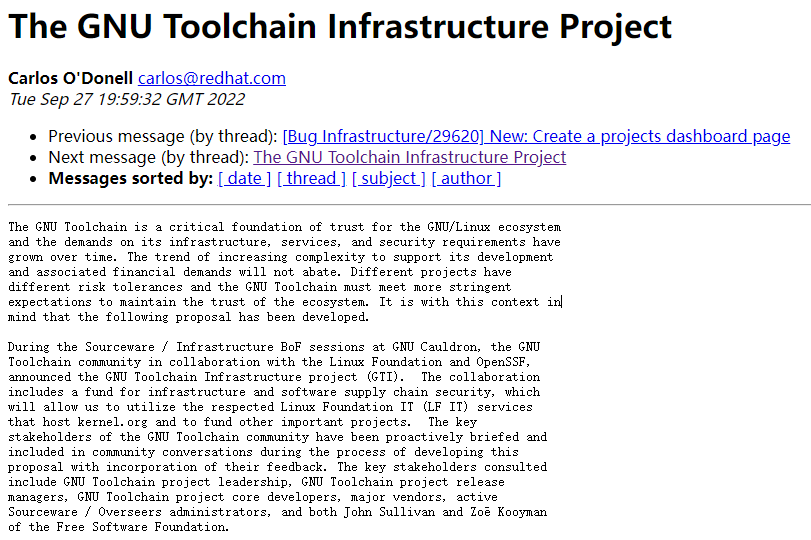 The Linux Foundation has long hosted Kernel.org and the Linux kernel-related web server infrastructure, and its IT services have performed well in all aspects.but The GNU toolchain project has been hosted on Sourceware.org for a long time, and the transfer requires a lot of manpower and material resources. In addition, such a large transfer involves many people, and requires a long discussion and dialogue, at least to ensure that the main stakeholders of the GNU toolchain community are aware of the plan.
As such, key stakeholders to communicate include, but are not limited to: GNU Toolchain project leaders, GNU Toolchain project release managers, GNU Toolchain project core developers, key vendors, active Sourceware / Overseers administrators…
The GTI projectCurrently in the proposal stage, lacking corresponding public discussions andTechnology Roadmap. There's only been some discussion on the GNU mailing list so far, and interested friends can start watching the conversation from there.
In addition, the transfer is not mandatory or lock-in, the Linux Foundation also allows the GNU toolchain community to freely seek other financial support and infrastructure services if the leadership of the GNU toolchain feels that the GTI project and LF IT are not suitable partners. And can take away all assets.
#GNU #toolchain #transferred #Sourceware #hosted #Linux #Foundation #News Fast Delivery