In mid-September, Adobe announced aCash + stock acquisitionOnline collaborative design platform Figma,The deal valued Figma at $20 billion.Adobe's move has attracted a lot of attention in the industry – from a business perspective, Adobe has spent a lot of money to acquire a competitor. But at the community level, many designers and some other users are frustrated, after all, they use Figma to avoid Adobe.
At the same time, a well-known open source tool similar to Figma has also "swiped" an unexpected wave of traffic, and recentlyAnnounceReceived $8 million in Series A financing.The open-source tool, called Penpot, is the first for cross-domain teamsOpen source design and prototyping platform. Penpot uses an open web standard (SVG) and is web-based, independent of the operating system, and can be used with a browser.
Before Adobe's acquisition of Figma, Penpot had about 15,000 stars on GitHub, and its 10,000 active users are said to include Google, Microsoft, Red Hat, Tencent, ByteDance, and Mozilla.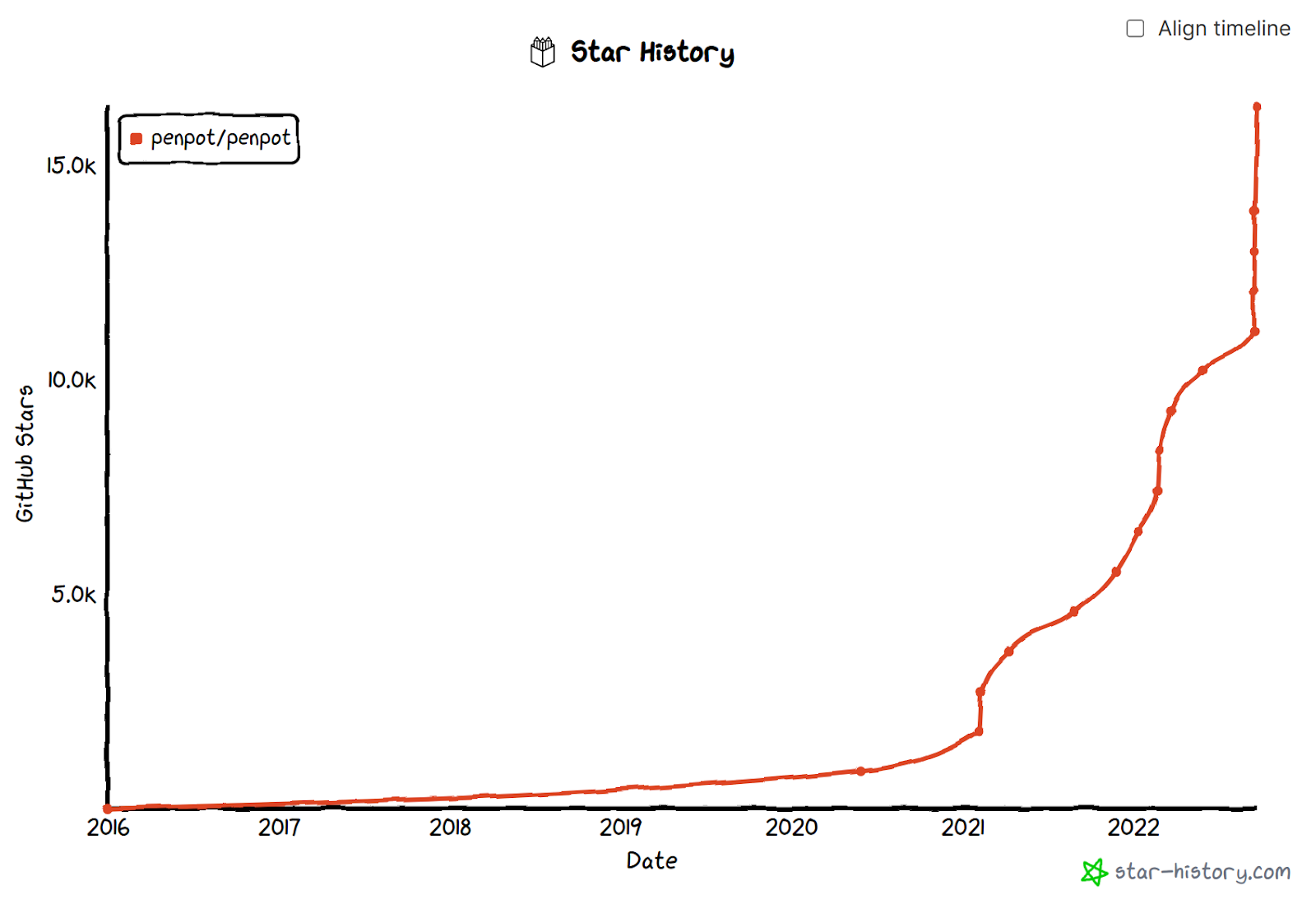 Penpot CEO and co-founder Pablo Ruiz-Múzquiz said that before Adobe announced its acquisition of Figma, sign-ups for their product had been growing by around 40% per month. And after the Adobe-Figma news, that number grew to 5,600% and has been growing steadily since then. On-premises deployments also grew by 400%.
Pablo Ruiz-Múzquiz also mentioned that they didn't originally think about building open source tools for designers, because they were originally just a back-end development company, and the programmers and designers in the company did not get along well. Later, he discovered that open-source products were rare in the design world—while it was common in the developer community. So he thought of creating a platform that supports custom operations to meet the needs of specific user groups and uses. That's where Penpot was born.
▲ The founding team of Penpot, the bottom right is founder Pablo Ruiz-Múzquiz
Penpot developers are open source startups from Spain, and they say the investment is the highest Series A round of any open source company in Spain to date. The funding will be used to accelerate their vision to build an open source design and prototyping platform, as well as upgrade cloud infrastructure. A seamless migration from proprietary tools to Penpot will be available in the coming weeks.
#Figmas #opensource #alternative #Penpot #raises #million #Series #funding #VentureBeat