Six months after the release of GNOME 42, GNOME has officially launched GNOME 43, codenamed "Guadalajara". The latest GNOME release brings comprehensive improvements, including a new Quick Settings menu, a redesigned Files app, and device security settings. GNOME 43 continues the trend of migrating GNOME applications from GTK 3 to GTK 4 and includes many other smaller improvements.
Quick Setup
GNOME 43 comes with a redesigned system status menu that allows for quick changes to frequently used settings. Settings that previously required digging into menus can now be changed with the click of a button. The new design also lets you see the setting status at a glance.
In addition to making existing settings easier to use, the new settings menu includes some notable new features:
For the first time, the menu includes settings for user interface styles, allowing switching between light and dark styles.Previously this setting could only be modified from the Settings app
Includes a new screenshot button, which complements the built-in screenshot feature introduced in GNOME 42
When there are multiple audio devices, they can now be switched from the menu without having to dig into the settings app to make adjustments
When VPN is turned off, pressing the VPN button will connect to the last network used.
More tools migrated to GTK 4
GTK 4 is a major new release of GNOME's User Interface Toolkit, released in December 2020. With the new version, the app gets faster, smoother graphics, new interface parts, and a fresh new look.
In the last GNOME release, GNOME 42, many GNOME applications adopted GTK 4. In GNOME 43, this change continues, with more applications switching from GTK 3 to GTK 4 today, including:
Files app update
As part of the transition to GTK 4, the Files app has also seen a number of improvements:
The file and folder properties windows have been given a new, modern design, which gives a better overview of each item
The app is now responsive, which means it can be used in different widths, and when the window is resized, it will also automatically adjust its layout
The menus have been reorganized so they are more logical and easier to use
The Search Results List, Recent Files List, and Starred Files List have a new layout that better shows the location of each file
The new Open With dialog makes it easy to control which applications should be used to open different types of files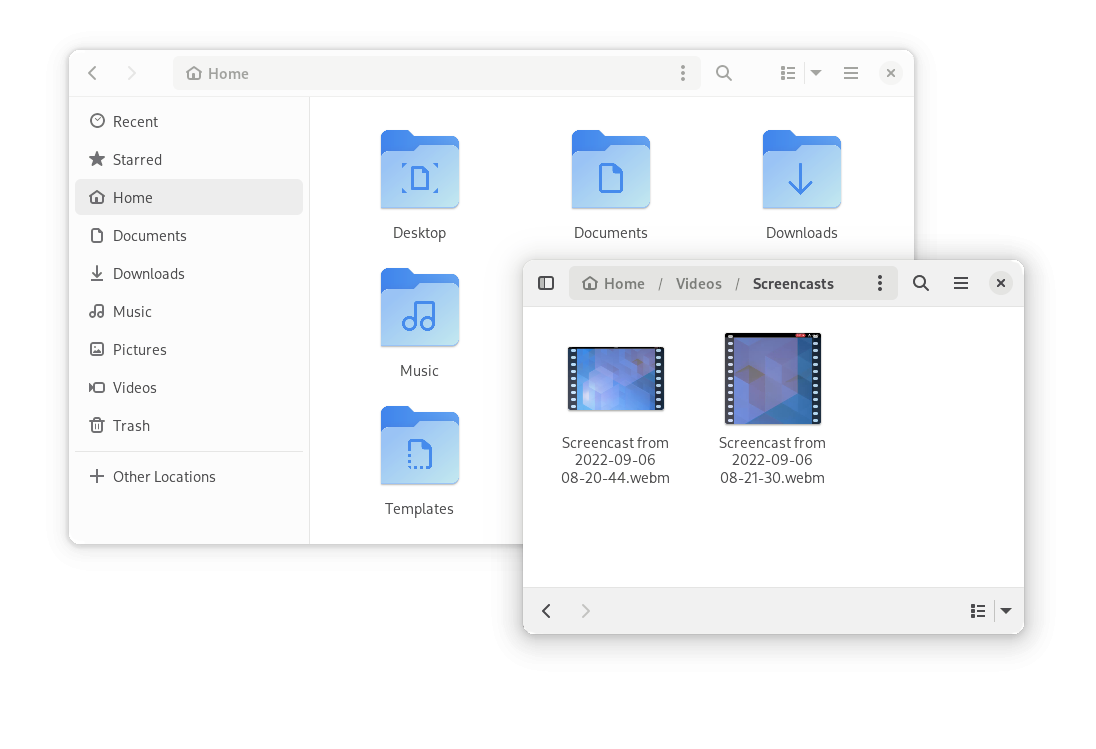 Calendar, Contacts, Phone
Calendar, Contacts, and Phone apps have all been enhanced for GNOME 43:
Calendar has an updated interface, and the new sidebar includes a navigational calendar and a list of upcoming events.The grid of the calendar has also been given a new colour and a new colour palette
Contacts in GNOME 43 now allows import and export of contacts as vCard files
The phone has a range of improvements, including faster boot times, support for encrypted VOIP calls, and the ability to send text messages from call logs
Device Security Settings
GNOME's Privacy Settings includes a new Device Security page in version 43. This provides secure information about your physical hardware, its configuration and firmware.
Device security settings can be used to detect a variety of hardware security issues, including manufacturing errors and hardware misconfigurations. The new setting can also warn of potential security issues, such as physical device tampering, which could indicate the presence of malware.
web application
GNOME 43 includes the ability to install websites as applications to the desktop. This feature is a new and improved version of the web application functionality found in previous versions of GNOME.
In the web, a website can be installed as an application using the "Install website as a web application" menu item. Web applications can be removed from Software in the usual way.
other
GNOME 43 also includes many other small improvements, including:
The on-screen keyboard now shows suggestions as you type, and it also shows the Ctrl, Alt, and Tab keys when typing in the terminal.
Web's screenshot feature is now easier to use, it can now be found in the context menu of a web page, or triggered with the Shift+Ctrl+S keyboard shortcut.
Also in the web, the styles of interface elements in web pages have been updated to match modern GNOME applications.
The Characters app now includes more emojis, including people of different skin tones, genders, and hairstyles, as well as more regional flags.
Some animations in the Activities Overview have been optimized to make them smoother.
The "About window" for GNOME applications (showing detailed information about each application) has been improved
In Software, the application page has an improved switcher to select source and format
The dark UI style used by GTK 4 applications has been optimized for a more harmonious appearance
Audio from the host can now be received when connecting to GNOME with a remote desktop application
…
More details can be viewed: https://release.gnome.org/43/
#GNOME #Released #News Fast Delivery