Siyuan Notes is a local-first personal knowledge management system that supports fine-grained block-level references and Markdown, what you see is what you get.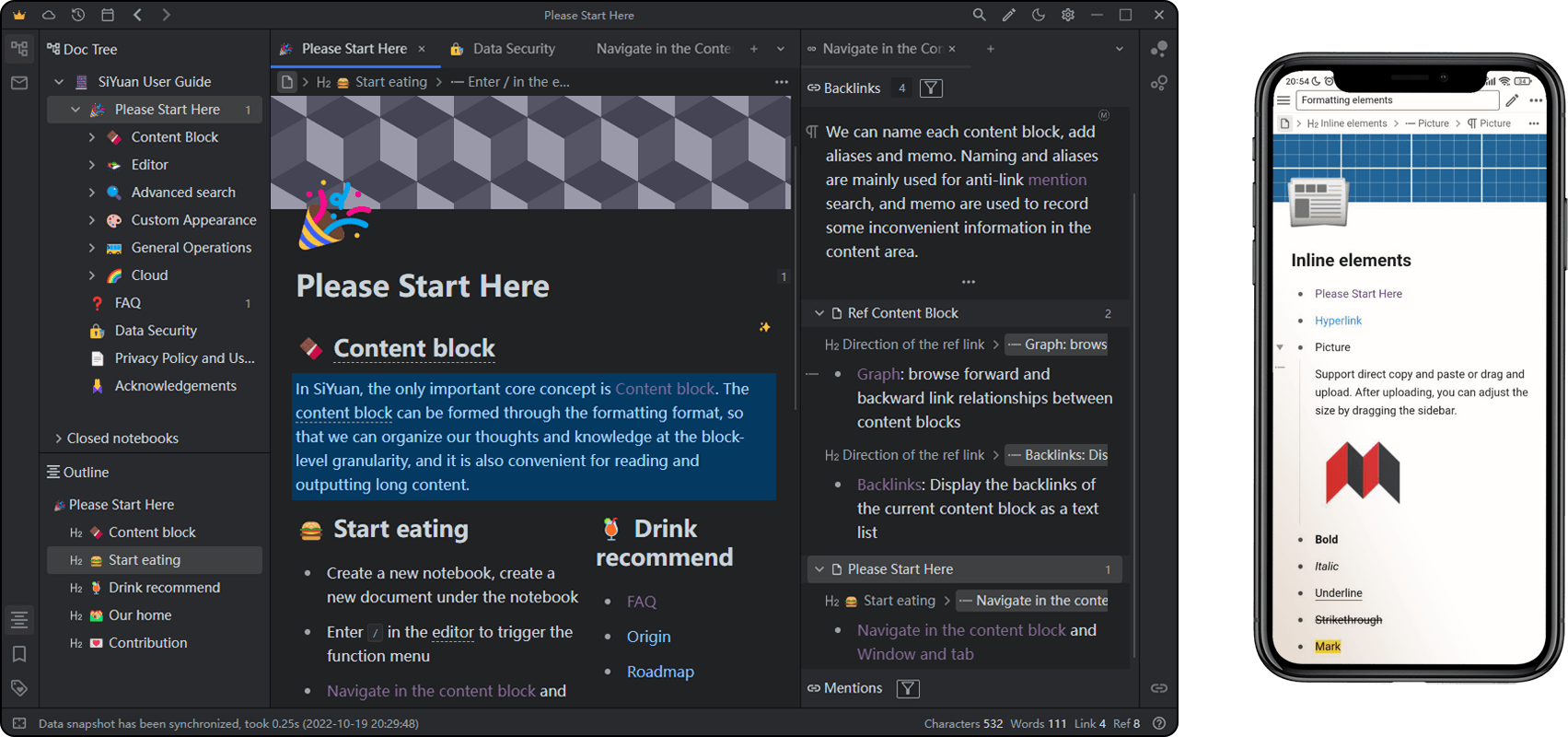 characteristic
free
All native features are free, even for commercial use.
content block

Block-level citations and bidirectional links
custom attributes
SQL query embedding
protocol

siyuan://

editor

block style
Markdown WYSIWYG
list outline
block zoom focus
block layout
Million-word document editing
Mathematical formulas, charts, flowcharts, Gantt charts, timing charts, staves, etc.
web clipping
PDF annotation double chain

export

Quoted blocks and embedded blocks
Standard Markdown with assets folder
PDF, Word, and HTML
Copy to WeChat official account, Zhihu and Yuque

End-to-end encrypted data synchronization and backup through third-party cloud storage services
spaced repetition
template fragment
JavaScript/CSS code snippet
Android/iOS APP
Docker deployment
community market
paid subscription
Cloud services require a paid subscription.
Distinguished ID
End-to-end encrypted data sync and backup
Cloud image bed service
Regular WeChat reminder
cloud collection box
Download and install
The desktop and mobile terminals are recommended to give priority to installation through the application market, so that one-click update can be performed when upgrading the version in the future.
application market
Docker deployment
Docker deployment documentation
Installation package
internal preview
Insider previews are released before major updates, visit https://github.com/siyuan-note/insider.
????️
Community
????️
development guide

See:development guide.
#Siyuan #Notes #Homepage #Documentation #Downloads #DocumentationText #Editing #News Fast Delivery