On March 16, 2023, the openKylin community andRISC-V manufacturer DEEPCOMPUTINGThe joint strategic cooperation meeting was successfully held. Liang Yuning, consultant of Deepin Data Intelligence Technology Co., Ltd., Lu Yanwen, ROMA product manager, Wu Qingbo, director of openKylin Community Technical Committee, members Liu Xiaodong, Wang Wenzhu, Li Jianfeng, community secretary Yu Jie, deputy secretary-general Liu Min, RISC-V SIG Maintainer Li Zhuoheng, Ding Chenguang Relevant members participated in the meeting, and discussed the follow-up cooperation direction and planning between the openKylin community and DEEPCOMPUTING.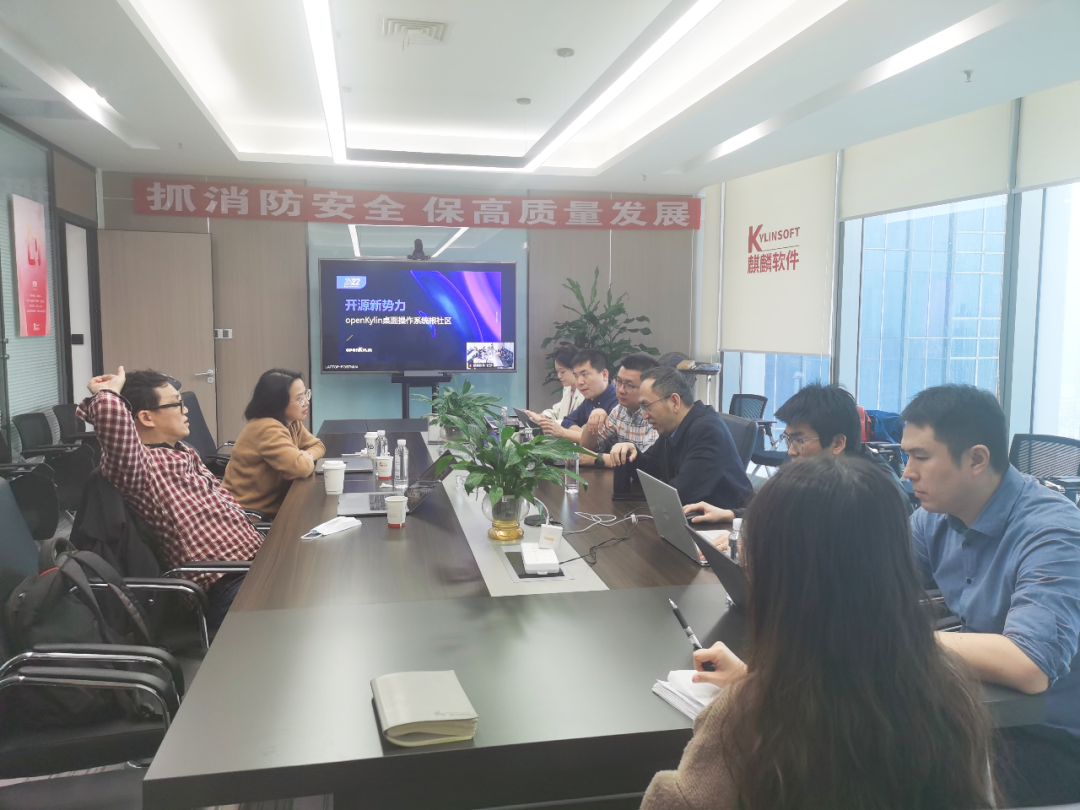 At the meeting, Liu Min, deputy secretary-general of the openKylin community, gave an introduction to openKylin, and Lu Yanwen, product manager of ROMA, introduced the relevant situation of Deepin Digital Intelligence and the direction of follow-up cooperation.Subsequently, the two parties conducted in-depth exchanges on the strategic cooperation plan between openKylin and Deepin Data Intelligence, andProduct adaptation, community co-construction, ecological expansion, international operationCooperation intentions have been reached in other directions, the details are as follows:
01product adaptation
ROMA computer product line equipped with openKylin OS
02Community building
Actively make community contributions and rely on the community to provide better technical support to users
03Ecological expansion
Jointly build and improve the RISC-V computer software ecosystem
04International Operations
Help promote the internationalization and promotion of the openKylin community
About ROMA
ROMA is a RISC-V processor-based laptop developed by DEEPCOMPUTING, which has a quad-core RISC-V CPU, free upgradeable SoC and SOM, and features for video and AI workloads GPU and NPU acceleration.
As the root community of the domestic desktop operating system, openKylin has been paying close attention to and continuously investing in the ecological construction of the RISC-V architecture since its establishment, and is committed to building the collaborative development of the operating system and the software and hardware ecosystem of the RISC-V architecture. At the level of RISC-V ecological layout, openKylin takes the lead in laying out a new generation of desktop office scene ecology based on RISC-V architecture, which basically meets users' basic office and daily use scenarios.
In the future, openKylin and DEEPCOMPUTING will continue to deepen cooperation and jointly promote the development and exploration of the RISC-V ecosystem.
The openKylin (Open Kylin) community aims to take "co-creation" as the core, on the basis of open source, voluntariness, equality, and collaboration, to build a partner ecosystem with enterprises in an open source and open way, and to jointly create a top-level desktop operating system community. Promote the prosperity and development of Linux open source technology and its software and hardware ecology.
The first batch of council member units in the community include Kylin Software, Puhua Basic Software, Zhongke Fangde, Kylin Principal, Meditation Software, Yiming Software, ZTE New Fulcrum, Yuanxin Technology, China Electronics 32, Jide System, Beijing Lin Zhuo, Advanced Operating System Innovation Center and other 13 industry colleagues and industry organizations.
Review: openKylin
#RISCV #Coconstruction #OpenKylin #Deepin #Digital #Intelligence #Strategic #Cooperation #Conference #Held #News Fast Delivery