Musk tweeted againexpress, Twitter will open source all the code used for tweet recommendation on March 31. He explained:
Our "algorithms" are overly complex and not fully understood internally. People will find a lot of stupid questions, but we will fix them as soon as we find them! We're working on a simplified way to deliver more engaging Tweets, but this is still a work in progress. This will also be open source. Providing code transparency will be embarrassing at first, but it should lead to a rapid improvement in recommendation quality. Most importantly, we want to earn your trust.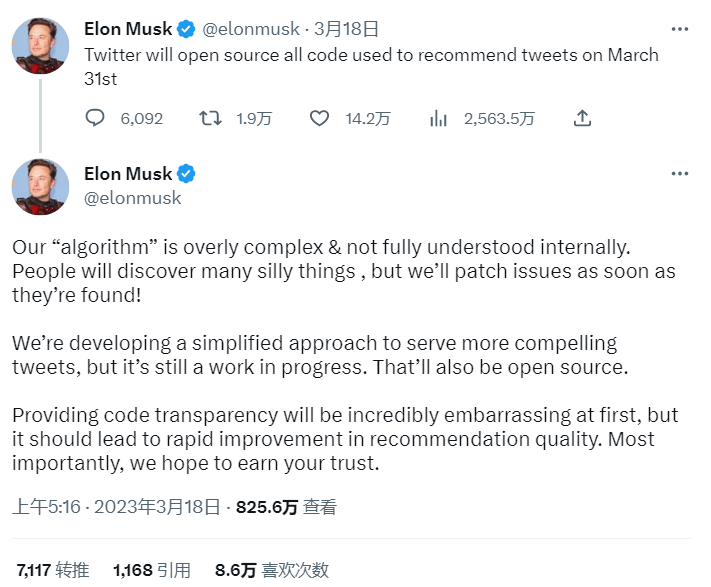 In fact, Musk has stated more than once that he will open source the Twitter algorithm.He said before buying Twitter last year,Twitter's code should be open-sourced on GitHub so the public can inspect it. Not long after that, Musk announced the acquisition of Twitter.Meanwhile, Twitter's GitHub page has added a new "the-algorithm (Algorithm)" warehouse, but this warehouse will be 404 soon.
In February of this year, Musk said in reply to netizens' comments,"When we open source the algorithm next week, be prepared to be disappointed at first, but it will improve quickly! "
But it turns out that Musk's previous promises of open source Twitter algorithms have not been fulfilled. As for whether it is true or not this time, we can only wait for time to verify.
Further reading:


#Musk #Twitter #open #source #recommendation #mechanism #codes #March #small #tech #news