Data from the Eclipse Foundation and the Adoptium working group shows that in February 2023, Eclipse Temurin binaries were downloaded more than 12.3 million times, more than double the same period last year.
"The global open source Java ecosystem is seeing significant momentum. This momentum comes after new licensing fee structures were introduced to the industry. In some cases, businesses that have paid tens of thousands of dollars are now facing multimillion-dollar Java royalties. As a result, the use of free, high-quality Java is at an all-time high…As the entire open source Java ecosystem continues to undergo a renaissance, millions of developers and large enterprise users are turning to the Adoptium Marketplace for their open Java runtime."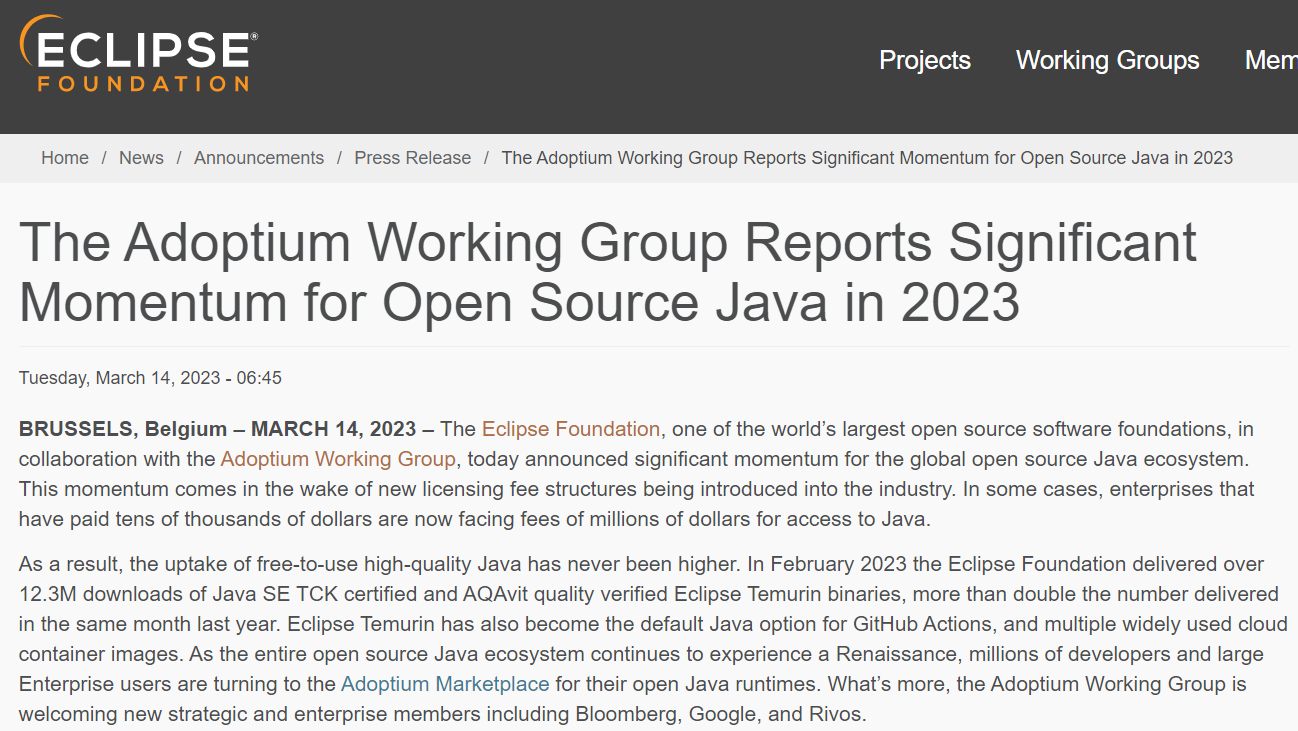 Eclipse executive director Mike Milinkovich said that this level of downloads has actually been maintained for three or four months. he thinks,Oracle's New Java SE Pricing Modelaccelerated adoption of Temurin; and this year-over-year growth does indicate its appeal to developers and enterprises looking for a robust, secure, high-quality Java runtime.
In fact, over the past few years, more and more companies have switched from commercial distributions to open source distributions. 2022an item of New Relic SurveyIt was found that Oracle's share of the Java market has dropped from 75% in 2020 to 35% in 2022,Shrunk by nearly half. According to Tim Ellison, PMC Lead for Eclipse Adoptium, "2023 will be an extremely productive year for the Adoptium working group and the open source Java ecosystem as a whole… now is the time for organizations to choose free-to-use Java The perfect time to run."
Eclipse Temurin (formerly known as AdoptOpenJDK) is a free OpenJDK-based build launched by the Eclipse Foundation in 2017, aiming to solve the general lack of open, vendor-neutral, reproducible build and test systems for OpenJDK across multiple platforms . It's worth mentioning that Eclipse Temurin is now also the default Java option in GitHub Actions, a move that may also help increase usage.
Available for download from adoptium.net.
Related Reading:The Eclipse Foundation promotes the distribution of high-quality Java binaries
#Downloads #Soar #Eclipse #Foundation #Reports #Strong #Momentum #Open #Source #Java