Former Russian tech company Yandex employee recently torrented magnet links on a popular hacking forumreleasesource code repository with a total capacity of 44.7GB.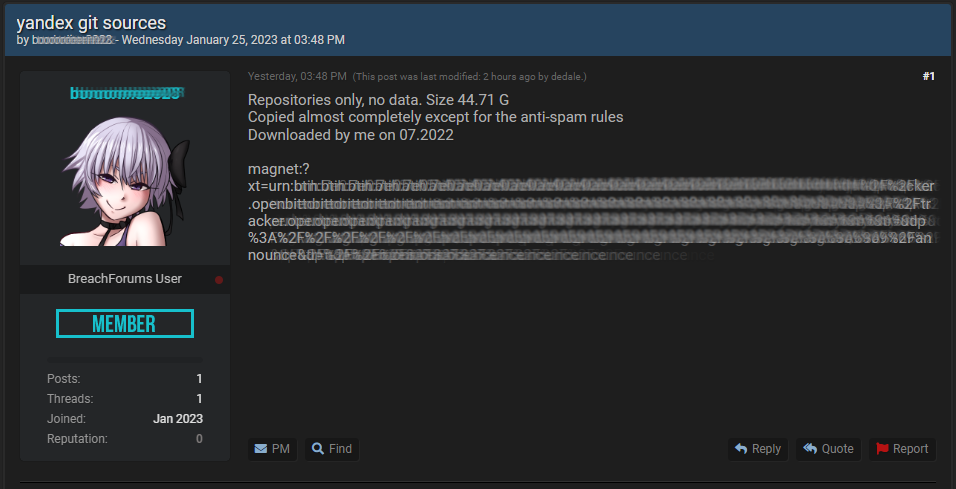 The leaker claims these are 'Yandex git sources', stolen from the company in July 2022, and contain all source code except anti-spam rules.
After analyzing the leaked Yandex Git repository, software engineer Arseniy Shestakov found that it contained technical data and code for the following products:
Yandex search engine and indexing bot
Yandex map
Alice (artificial intelligence assistant)
Yandex Taxi
Yandex Direct (advertising service)
Yandex mail
Yandex Disk (cloud storage service)
Yandex Market
Yandex Travel (travel booking platform)
Yandex360 (Workspace service)
Yandex Cloud
Yandex Pay (payment processing service)
Yandex Metrika (Internet analytics)
Directory of leaked files: http://gist.github.com/ArseniyShestakov/53a80e3214601aa20d1075872a1ea989
Yandex said in a statement in response to the media that their systems were not hacked and that a former employee leaked the source code repository. No threats to user data or platform performance have been identified so far.
But security researchers said it was only a matter of time before Yandex's leaked code made it possible for hackers to identify security flaws and create targeted exploits.
#Russian #technology #company #Yandex #leaked #447GB #source #code #employees #News Fast Delivery