The Open Source Firmware Foundation (OSFF) recently posted on social platformsAnnounceCoreboot will officially join OSFF to jointly promote the development of open source firmware.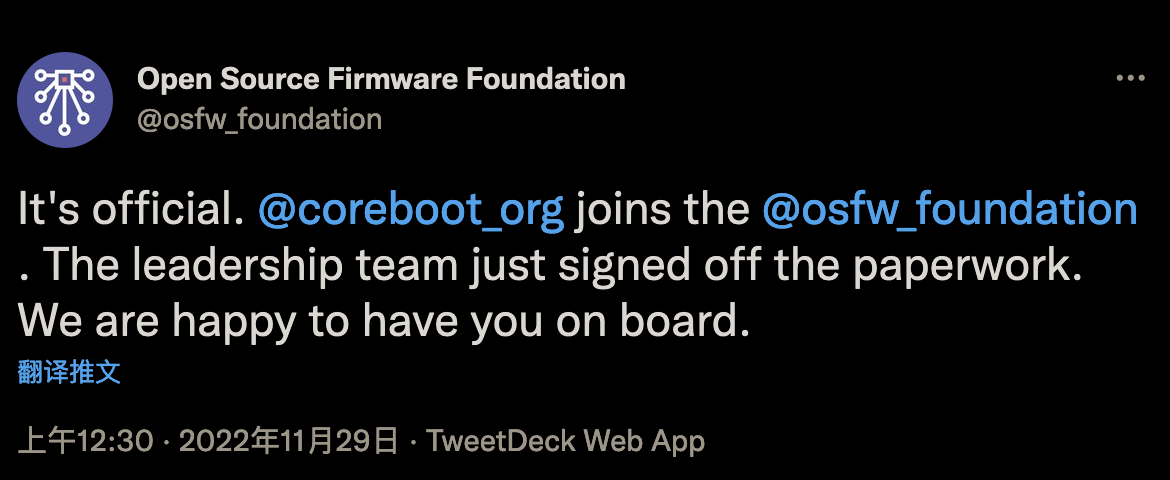 Coreboot, formerly known as LinuxBIOS, is a software project aimed at replacing proprietary firmware (BIOS or UEFI) in computers, with a lightweight firmware design that performs only the minimum number of tasks required to load and run a modern 32-bit or 64-bit operating system .
Since Coreboot initializes the hardware, it must be ported for each chipset and motherboard it supports. Therefore, Coreboot is only applicable to limited hardware platforms and motherboard models.
The Open Source Firmware Foundation was jointly established by 9elements Cyber ​​Security and Mullvad VPN. In the introduction on the official website, they wrote:
The Open Source Firmware Foundation (OSFF) is a non-profit organization whose overall goal is to enhance communication among all parties in the open source firmware field. OSFF was founded in 2021 by an industry-leading open source firmware company.

The foundation sets its goal to research and educate businesses and individuals about open source firmware by sharing knowledge resources, infrastructure, services, events and training.
Currently, in addition to the two founding members and Coreboot who just joined the organization, OSFF members also have LinuxBoot who joined the organization in the middle of this year. As a foundation that has just been established, I wish OSFF all the best in the future.


#Coreboot #joins #Open #Source #Firmware #Foundation #News Fast Delivery #Chinese #Open #Source #Technology #Exchange #Community