Recently, Google announced that it will provide manufacturing funds for open source chips participating in its open source chip program, but this event is limited to open source chips designed using the GlobalFoundries 180nm process kit.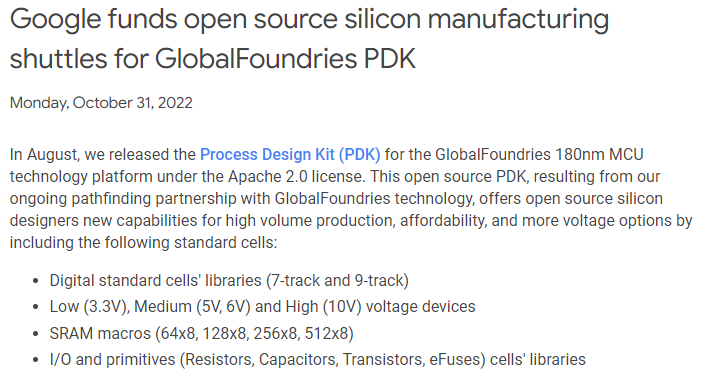 Background introduction:
Since November 2020, Google has partnered with SkyWater Technology to allow anyone to submit open source integrated circuit designs using the open source PDK and other open source EDA tools, and Google will manufacture the chips for them for free, at no cost.

In August, Google announced a partnership with GlobalFoundries (GlobalFoundries), which provides 180nm manufacturing access to Google's open-source chip initiative.

The two parties jointly released the Apache 2.0 license 180nm Process Design Kit (PDK) for MCU Technology Platform
Previously, Google partnered with SkyWater to provide free manufacturing funding for 350 unique open-source chips, of which about 240 were successfully fabricated. This time, Google has partnered with GlobalFoundries to provide free manufacturing of chips using GlobalFoundries' 180nm open source process.
As with previous events, participating chip designs must meet the following requirements:
The source code for the chip must be publicly released under an open source license.
The chip must be reproducible from the source code and the GF180MCU PDK.
Chips must be submitted within the campaign deadline (December 5, 2022).
Items must pass various inspections prior to manufacture.
Only 40 chip projects were selected for this batch of events. For more event information, check out more from the Google Blog.
The 180nm process is very backward for the PC side, but it still has strong market potential in applications such as motor controllers, RFID, general-purpose MCUs and PMICs, as well as emerging applications such as IoT sensors, dual-frequency RFID, and motor drives.
#Google #Offers #Free #Chip #Manufacturing #Services #Open #Source #Chip #Initiative