VideoLAN Foundation, the developer of popular media player VLC, sent a legal notice to India's Ministry of Electronics and Information Technology, claiming that the Indian agency failed to notify them and give them an opportunity to explain before blocking its website.
VLC is a free, open source and free multimedia player and framework. The VideoLAN Foundation, which maintains VLC, is a non-profit organization. The project team members are located in Paris.
Jean-Baptiste Kempf, chairman of the VideoLAN Foundation, said that although the Indian government's blocking of VLC has attracted widespread attention and reports on social media, the Indian government has not provided them or the Indian people with a reason to block VLC.Therefore he is With the assistance of the Internet Freedom Foundation,send a letterIndia's Ministry of Electronics and Information Technology has asked for an explanation, justification and a virtual hearing for blocking its domain name https://www.videolan.org/, and it is prepared to take legal action if the Indian government rejects the request.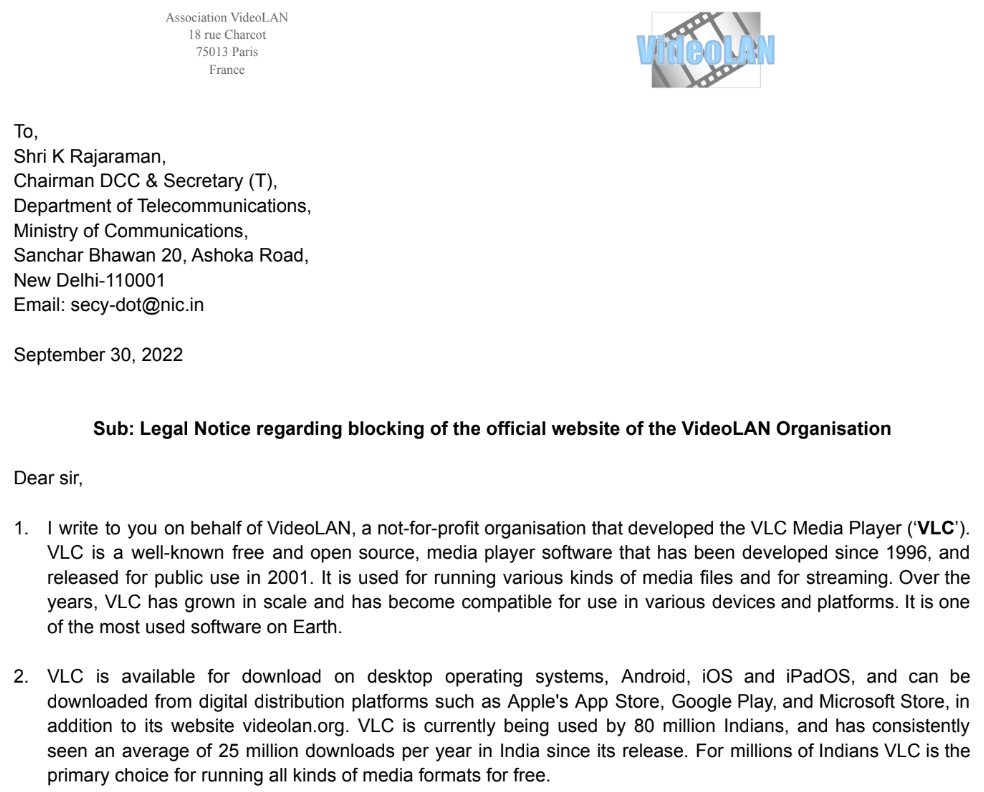 The domain name of VideoLAN has been blocked by the Indian government since February 13, 2022. Indian users accessing the domain name will display "The website has been blocked by order of the Ministry of Electronic Information Technology under the IT Act 2000".

The Indian government did not explain the blocking of domain names, and the Indian media said the reason behind it was VLC was attacked by Chinese hacker group Cicada, security experts found that Cicada used VLC playerDeploy malicious program loader. Therefore, the Indian government wants to ban the download of VLC from the official website.
Kempf pointed out that the Chinese hacking campaign was disclosed in April, weeks before the blocking of the VideoLAN domain name, and that the Chinese hackers were using a modified version of the old VLC player. In a letter to the Indian government, Kempf said VLC has 80 million users in India, with an average of 25 million downloads a year.
In this legal notice, VideoLAN also warned that if the Indian government does not abide by its own rules, they will take legal action for failing to protect their rights guaranteed by the Indian constitution and for breaching their obligations under international law, and Violate your own rules. Any such procedure, if initiated, will be entirely at the risk, cost and consequences of the Government of India.
#VLC #player #developer #threatens #sue #Indian #government