Recently, The Document Foundation (TDF), which is part of LibreOffice, announced that its open source office suite, LibreOffice, has been listed on Apple's Mac App Store for $8.99 to support those who want to sell products from "Apple's proprietary sales channels". "End users who acquire desktop software. This paid version is optimized for production deployment, and is provided by the foundation for long-term technical services, and its revenue is used to support the development of the LibreOffice project.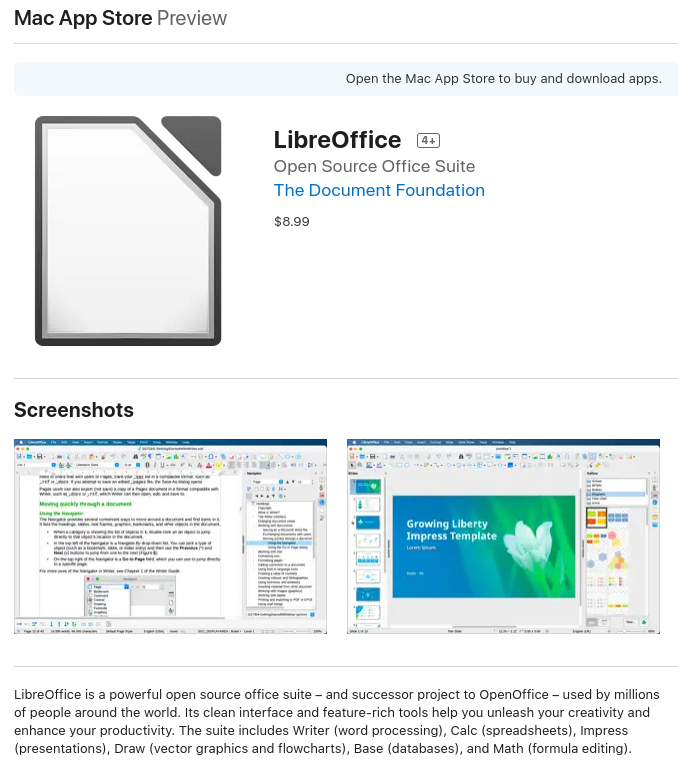 (The official announcement from the foundation says they will receive 8.99 euros, but the price tag in the store is $8.99, $8.99 ≈ 9.01787 euros, maybe with some deductions like handling/tax?)
Before that, Collabora Office, based on LibreOffice, existed on the Mac App Store, and Collabora Office was provided for free by the open source technology services company Collabora, which also offered another commercial "Vanilla" version for $10 with three years of service support. .
Now the foundation has decided to go out in person and do it by itself: "We will adopt a new marketing strategy for the LibreOffice project – marching into the FOSS industry to meet the needs of individual and business users in a better way."
The Foundation will continue to offer LibreOffice for macOS for free on the LibreOffice website after it goes live, and the free community version is better than the Mac App Store version because the community version includes Java. "Apple doesn't allow dependencies in its store, so we can't include Java in the $8.99 product," the foundation explained.
Of course, as mentioned earlier, the Mac App Store version is optimized for deployment in production and backed by long-term service support from the Foundation.
According to the foreign media the theregister, the current office software market is still dominated by Microsoft's Office series, and Google's Workspaces is also participating in the competition. These two companies provide local + cloud solutions for office suites, which have some cloud advantages over LibreOffice.
The Document Foundation itself has developed a browser version of the LibreOffice suite. But because the online version is too much engineering, the foundation does not intend to promote it as a competitor to Office or Workspaces, but welcomes other commercial or charitable organizations to use LibreOffice-Online to develop and provide more services.
Moving forward with LibreOffice Online would require the selection and integration of deployment of a large number of other technologies required – file sharing, authentication, load balancing, etc., with a significantly increased scope of work, not in line with the original mission of the LibreOffice project.

This task is left to large deployers, ISPs and open source cloud solution providers, with several options already on the market. TDF welcomes another charity to offer the public LibreOffice Online product.
#LibreOffice #Mac #App #Store #News Fast Delivery