The Apache Software Foundation announced in a blog post:From 2011 to present, its open source office suite Apache OpenOffice has been downloaded more than 333 million times (Includes all 4.1.x versions),This number does not take into account channels such as SourceForge mirror downloads, so the actual number will actually be higher.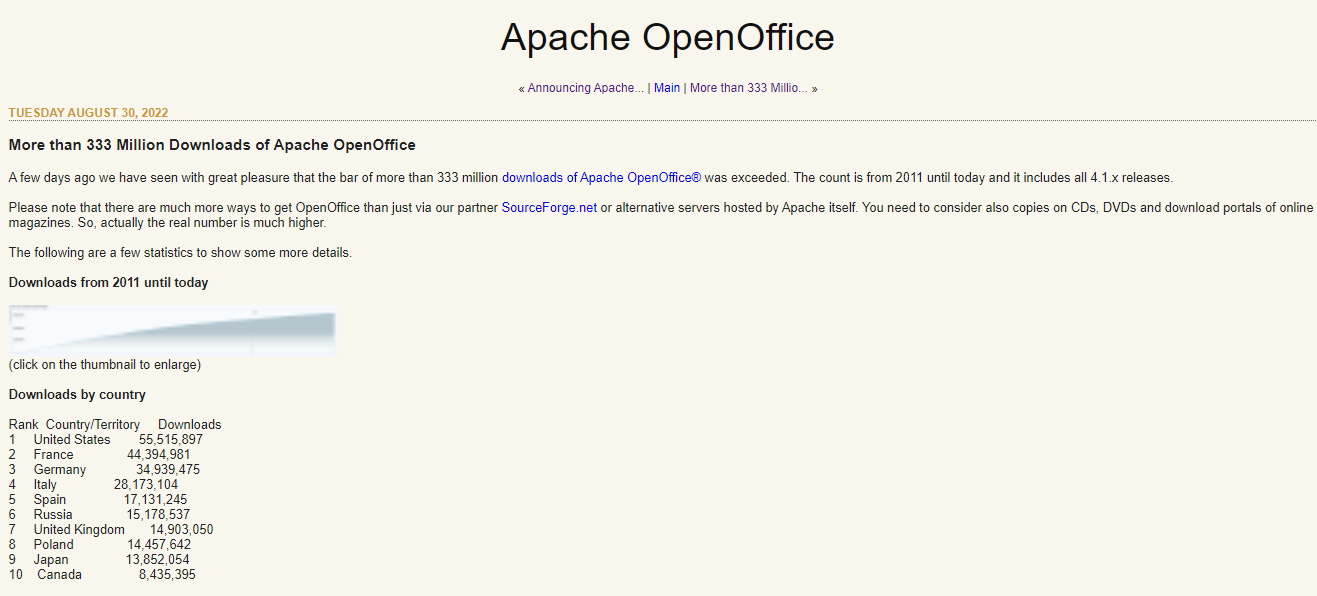 According to foreign media Phoronix, the OpenOffice code was donated to the Apache Software Foundation in 2011, but unfortunately, it has not flourished in the past decade. Apache OpenOffice has very few new features developed and even lacks maintenance and security bug fixes. But the brand still exists, and users still choose it when searching for open-source office software or free alternatives to Microsoft Office.
Here are some statistics from the Apache Foundation, ranking by downloads by region:
US 55,515,897
France 44,394,981
Germany 34,939,475
Italy 28,173,104
Spain 17,131,245
Russia 15,178,537
UK 14,903,050
Poland 14,457,642
Japan 13,852,054
Canada 8,435,395
Ranked by operating system, it is interesting to see that Apache OpenOffice has nearly 300 million downloads on the Windows platform, and only 4.7 million downloads by Linux users…
Windows 297,992,216
Mac 31,625,280
Linux 4,744,249
Such a high number of downloads for Apache OpenOffice is cause for celebration, but honestly, let me choose it LibreOffice.After all, it is also an open source office suite, which has been updated to provide more modern features and functions..
#Apache #OpenOffice #downloaded #million #times #million #exclusively #Windows #platform