We previously reported GitHub Copilot Sued Over Copyright Issues, Programmer And Lawyer Matthew Butterick is working with the legal team at Joseph Saveri LLP to bring a class action lawsuit against GitHub Copilot,Prosecutors believe that GitHub Copilot trained their AI systems based on public GitHub repositories, which violated the legal rights of a large number of creators.
then Butterick and his legal team filed a second class-action lawsuit against Microsoft, GitHub and OpenAI on similar grounds on behalf of two anonymous software developers.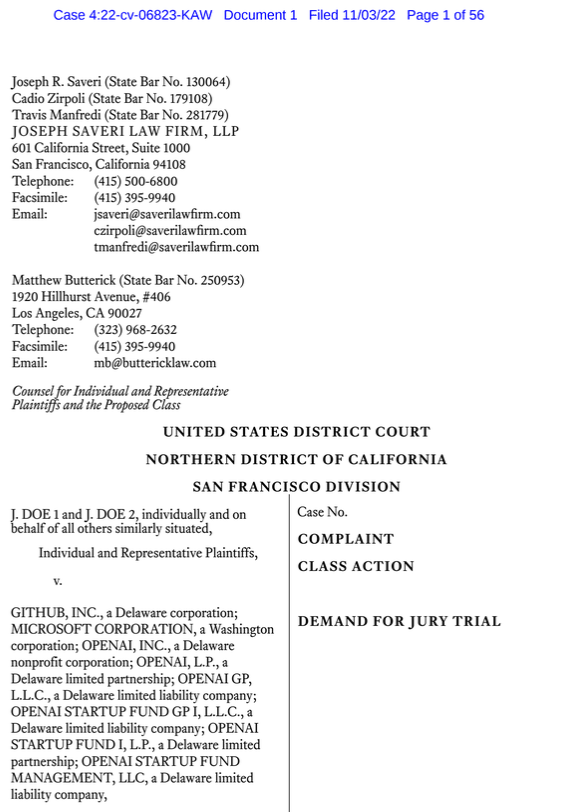 According to a recent Reuters report, last weekIn two court documents filed in federal court in San Francisco, Microsoft-owned GitHub and OpenAI said the claims outlined in the lawsuit were invalid and hoped the court would dismiss the lawsuit.
In the filing, Microsoft and GitHub say the suit "fails on two inherent flaws: a lack of injury and a lack of other viable claims," ​​while OpenAI likewise says that the plaintiffs "alleged a host of claims that failed to demonstrate that we violated accepted legal rights." The companies argued that the plaintiffs relied on "hypothetical events" to build their claim and did not clearly describe how the tool would cause copyright harm to individuals.
Copilot does not retract anything from publicly available open source code, instead, Copilot helps developers write code by providing code suggestions based on knowledge gleaned from publicly available code. "
Microsoft and GitHub also slammed the plaintiffs in the filing as "undermining the principles of open source," arguing that the plaintiffs are seeking "injunctions and billions of dollars in windfalls" from "software that users are willing to share as open source." "
We'll continue to report on the court hearings for Microsoft, GitHub, and OpenAI's dismissal of their lawsuits in May.
#Microsoft #GitHub #OpenAI #court #dismiss #copyright #lawsuit