Contact Form Block – WordPress plugin Free download
Contact Form Block
Description
Simple, yet pretty and complete. You will love this contact form. Drop it in a page using its Gutenberg Block (or its shortcode) and it works! Nothing heavy, no eye-soring UI, no need to set up anything. You can find more information on this plugin on Meow Apps: Contact Form Block.
Using the Gutenberg block is recommended. You can easily modify the labels of the main fields (Name, E-mail, and Message) and the overall design. A header can also be added, with an image and some text. The text and color of the submit button can also be customized. There are 3 basic themes available: None, Default and Meow Apps. None will add no styles to your contact form, Default will make it work on any theme, and Meow Apps will look a bit more solid.
The shortcode [meow-gallery-block] can also be used, just as it is! There are many attributes available to customize it. That shortcode can be used anywhere, in your widgets for example, and the contact form will display nicely.
This contact form doesn't load any JS or CSS scripts (except if you active ReCAPTCHA, of course). I know that the ones who love optimizing their websites will love this detail.
What does it do
The default behavior of this contact form is to send an e-mail to the admin of the WordPress install. The way those emails are prepared and sent can be modified through a wide range of filters.
ReCAPTCHA
It is not yet implemented in the plugin. I am currently pondering if I should simply add ReCAPTCHA 3 or give the choice between ReCAPTCHA 2 or 3. I would like to get your feedback on this and it will be part of this free plugin.
Best Practices
This contact form follows the best practices, in order to guarantee a maximum conversion rate.
Vertical layout (multi-columns result in a loss)
Labels above the fields (instead of placeholders or tricks)
Explicit and colorful submit button (labelled 'Send' instead of 'Submit', by default)
A limited number of fields (after 3 fields, the conversion rate goes down)
No captcha (don't worry about spams, this contact form includes ReCAPTCHA_v3, which is invisible)
Use a header (with a small image), that will motivate the user to contact you
Why another Contact Form
I have tried many plugins in the past, and I found them all too complicated. Most of the time, I just want one contact form, in my About page. Why would I need to create a new entry in a list of forms, manually decide the fields and make sure everything is well set-up? And why do I need more plugins in order to add captcha support, or even pay for such a basic option?
Limitations
There are many other contact form systems, and this contact form will not try to do more than them. On the contrary, it will focus on being simply a contact form, and will be the best at doing it. There will be no clunky UI added to your WordPress nor heavy processes. Most users simply want a pretty and easy contact form, and this is contact form is the one. Adding new fields and options can be discussed, but this contact form will keep its ethic.
Beta
Please be nice with me, as this new contact form was just released. I am still working on making it simple, and testing it on websites. If you have any issue, start a discussion in the forums and I will make it work.
Languages: English.
Screenshots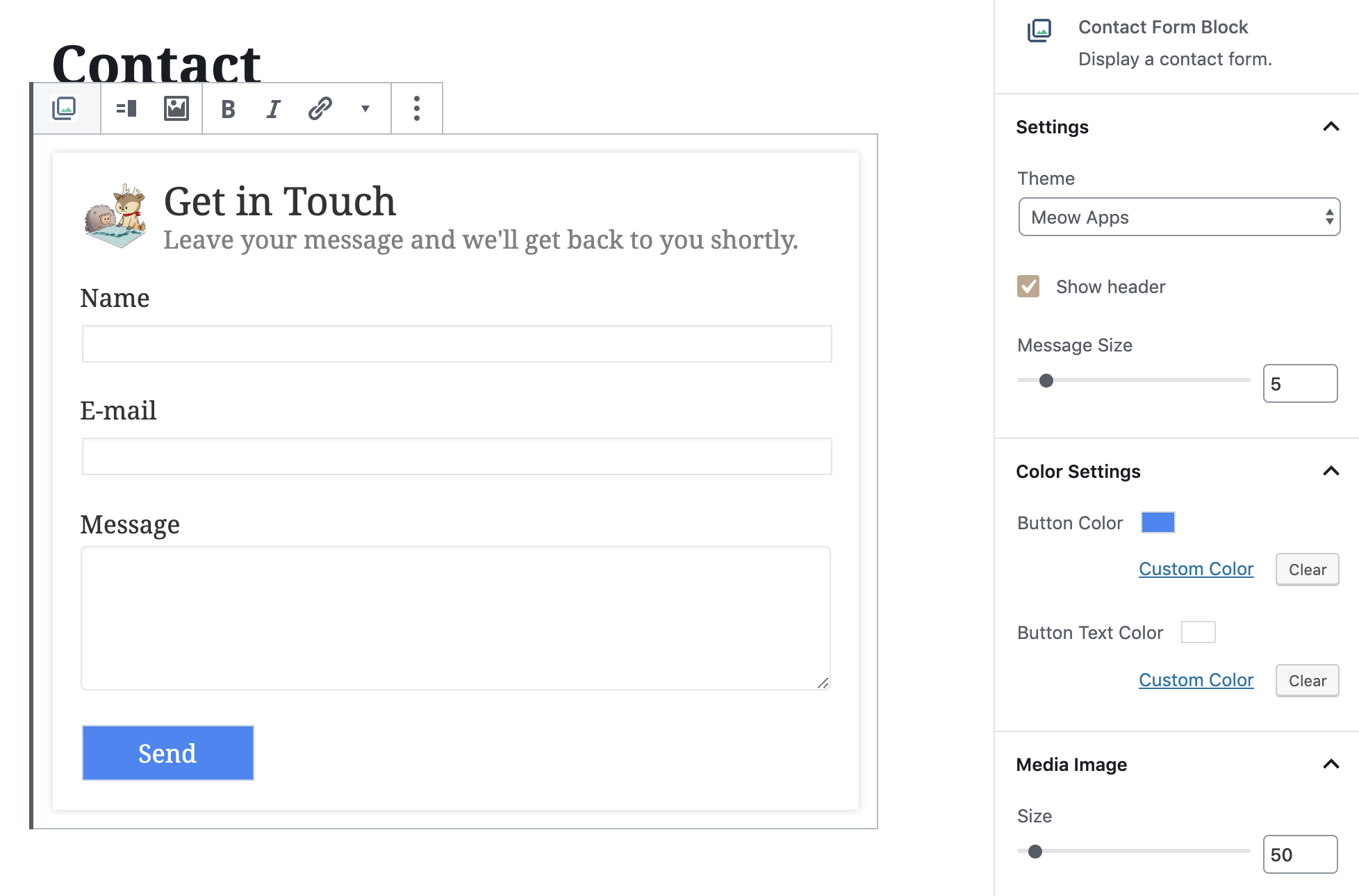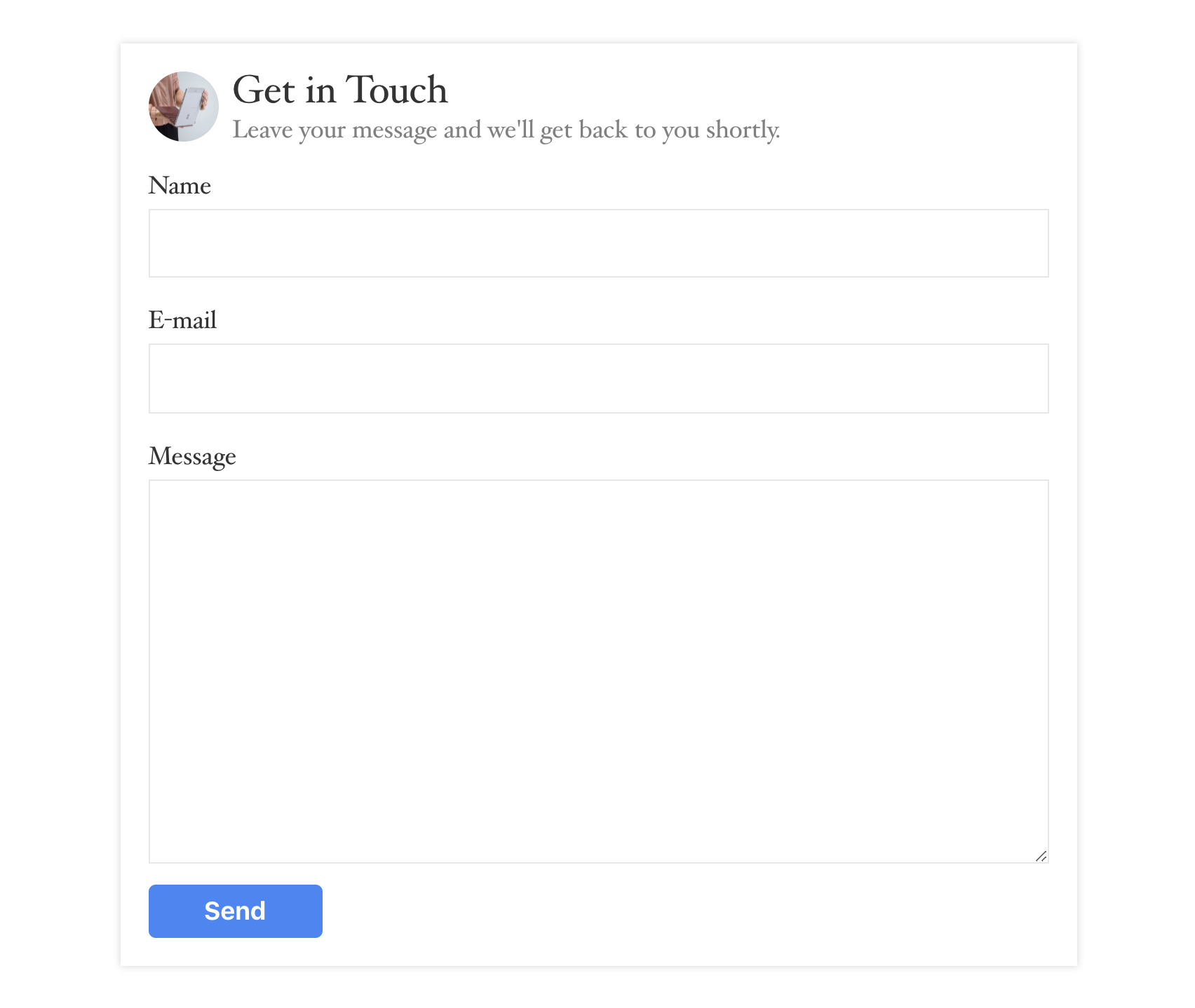 Blocks
This plugin provides 2 blocks.
contact-form-block/contact-form
contact-form-block/contact-form-block
Contact Form Block
Installation
Upload contact-form-block to the /wp-content/plugins/ directory
Activate the plugin through the 'Plugins' menu in WordPress
Reviews