Different Menu in Different Pages – Control Menu Visibility – WordPress plugin Free download
Different Menu in Different Pages – Control Menu Visibility
Description
Summary
Set different menus for different users, pages, posts, page templates, post types, categories, devices etc. Here are a few examples:
Set a different menu only if current User is logged in
Set a different menu only if current User is not logged in
Set a different menu if Device is mobile or tablet or android or iPhone
Set a menu with many visibily rules.
Set a menu for Admins or Editors or any user roles
You can add login or register button with different menu easily.
The plugin is easy to use, each menu will have ability to replace with another different menu based on what conditions you set on settings (example in Screenshots).
Video preview
Features
In Free Version:
Different menu in different pages has easy setup settings page layout.
Different Menus can easily add, edit or delete from it's settings page.
Ability to add different menu in Home page, Front page, Blog page, Sticky Post, Single post, Right to Left (rtl) Page, 404 (page not found), Search pages etc all pages.
Different menu can be set also on template pages, post types, taxonomies.
You can set user roles in every different menus. So only selected user roles will see the menu.
Ajax live update and modern style
In Paid Version:
Set different menus in different devices ( android, iPhone, mobile, tablet).
Set different menu from a post's or page's add or edit page(screenshot-5.png).
Backup and Restore settings options (screenshot-6.png).
Unlimited different menus can be created.
Disable menu option to disable a different menu temporarily.
Premium Version
You can buy the premium from here
Example of adding a new different menu described in the Installation section
Some of our free plugins
Menu Import Export
WP Keyboard Shortcut
Instalation:
Step 1: Active the plugin.
Step2: Go to plugins settings page with: Dashboard > Settings > Different Menus
Step3: Click on Add different menu button and select a menu from selectbox. Which menus you have created on nav menu page (Appearence> Menus) these menus you will see here.
Step4: After done step3 then click on setup button.
Step5: Check every options you want to set the menu. And save it.
Step6: Go to desired page, and see magic.
Screenshots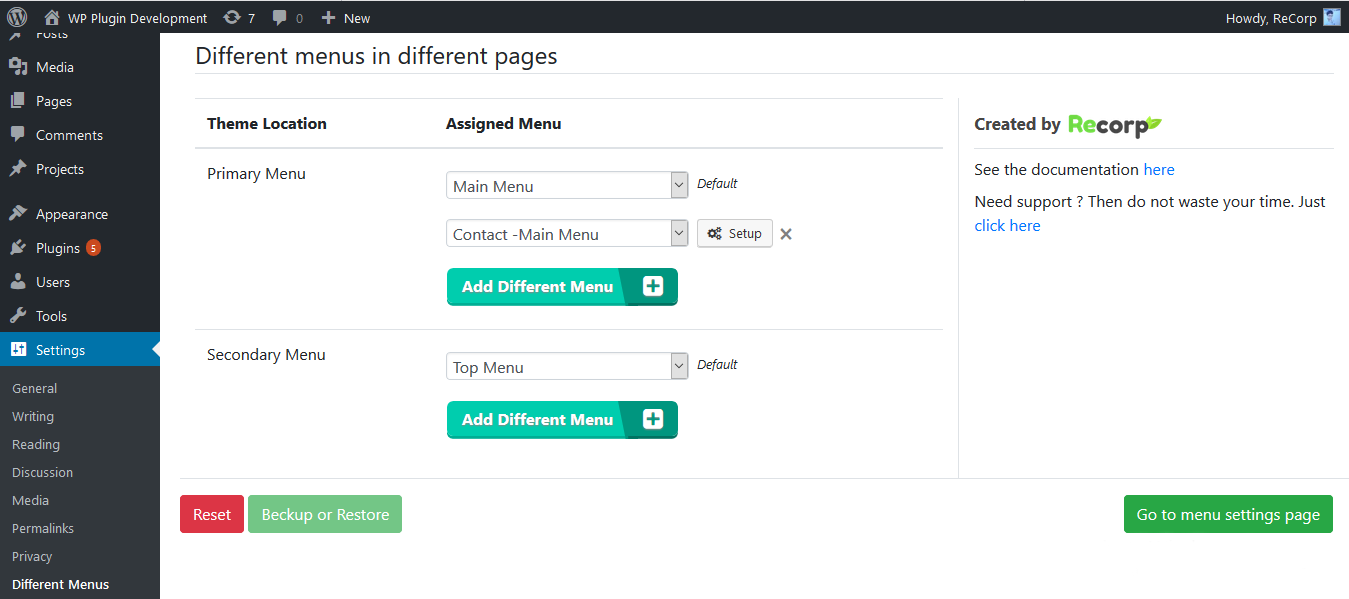 FAQ
Is there any option to set conditions to a menu item
Yes, for this you need to wait a little time for next release of this plugin.
How do I install the plugin?
Normal installation
the different-menus-in-different-pages.zip file to your computer.
Unzip the file.
Upload the different-menus-in-different-pages directory to your /wp-content/plugins/ directory.
Activate the plugin through the 'Plugins' menu in WordPress. After activating the plugin you will auto redirect to the plugin's settings page.
How do I backup the plugin
It is paid feature.
You can backup settings by following steps:
Please note: When you will restore the previous settings then previous settings will be removed.
Step1: Go to Dashboard> Settings> Different Menus
Step2: On the bottom left corner, will will see the button called "Backup or Restore". Click on it
Step3: Backup: Click on "Backup settings" button. The you will see a file will download.
Step4: Restore: You will see a file upload field below from "Backup settings" button. Select the desired backup file and upload it. When restore done the the page will reload.
Where can I get support?
If you get stuck, you can ask for help in the [Different Menu in Different Pages Plugin Forum][support forum].
Or you can contact us on our site https://myrecorp.com
Where can I report bugs
Bugs can be reported either in our support forum or preferably on the Different Menus in Different Pages GitHub repository (link to GitHub repo).
Reviews