Podcast Importer SecondLine – WordPress plugin Free download
Podcast Importer SecondLine
Description
The Podcast Importer plugin helps to easily import existing podcasts into WordPress. You can import your podcast into the regular WordPress posts or into a custom post type (if you have an existing one).
The plugin fully supports popular WordPress podcasting plugins such as PowerPress, Seriously Simple Podcasting, Simple Podcast Press, and works perfectly with podcast themes developed by SecondLineThemes
The plugin supports importing episodes into existing custom post types, assign categories, import featured images and more. Additionally, the plugin enables continuous import of podcast RSS feeds, so every time you release a new podcast episode, it could be automatically created within WordPress. You can also set multiple import schedules and import different podcasts from separate sources at the same time. (For example, when importing separate podcasts from separate feeds into one website)
To use the plugin, simply run a new import under "Tools -> Podcast Importer SecondLine" via the main menu that appears in your WordPress dashboard. Set the different options and if you need a continuous import process for future episodes, make sure to hit that checkbox before running the import process.
You can disable a schedueld import at any time by simply deleting the import entry.
About SecondLineThemes
SecondLineThemes is developing unique WordPress themes and plugins for Podcasters. Our tools are very popular among podcasters. To hear more about us please check our website:
https://secondlinethemes.com
Screenshots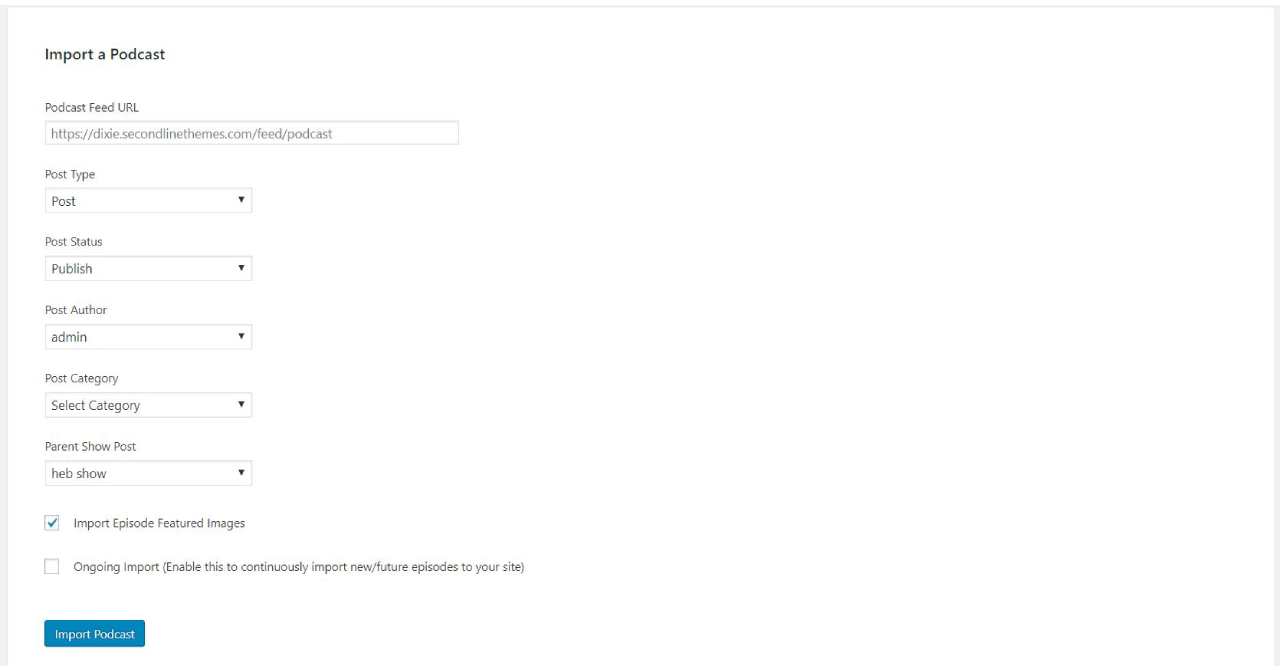 Installation
Upload the plugin files to the /wp-content/plugins/podcast-importer-secondline directory, or install the plugin through the WordPress plugins screen directly.
Activate the plugin through the 'Plugins' screen in WordPress.
Run a new import via the "Tools -> Podcast Importer Secondline" section in your WordPress admin panel.
If needed, delete any of the scheduled import processes.
FAQ
The import failed or takes too much time to process?
You can run the improter multiple times, as it will never import the same post twice. Once all episodes are imported, only future ones would be imported, assuming you selected the continuous import option.
Do you support podcast feeds from any host?
Sure. All types of podcast feeds can be imported, as long as they are in an RSS/XML format. If you feel something is missing, please reach out and we will ensure to look into it.
The import does not work for my podcast feed
First of all, make sure you are filling in a valid URL, of a valid podcast RSS feed. Second, make sure your server is up to modern requirements – we recommend PHP 7 or above.